Residents return to Motherwell asbestos scare tower block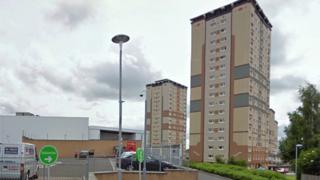 A tower block in Motherwell evacuated last week after workers disturbed asbestos has been reopened.
North Lanarkshire Council said more than 100 residents had begun returning to their homes in Anderson Tower.
A deep clean of the common areas and hallways in the high-rise block took place on Friday and over the weekend after the problem emerged on Thursday.
Some people were put up in hotels and temporary council accommodation, while others stayed with friends and family.
The asbestos was disturbed during mains cabling replacement and modernisation work being carried out on behalf of Scottish Power.
The clean-up operation was carried out by a specialist asbestos contractor over three days.
'Unprecedented' incident
North Lanarkshire Council's housing operations manager Stephen Llewellyn said: "The decision to allow residents to return to their homes was taken only after the council was satisfied the building had been properly deep-cleaned and test results showed clear.
"Works have also been carried out to seal areas where asbestos was disturbed.
"The health and well-being of our residents was paramount and we fully appreciate their understanding during this disruption."
Mr Llewellyn added: "Emptying an entire tower block within a few hours was unprecedented in the council's history and it is to the credit of all our residents that it was carried out so smoothly.
"Housing and social work staff did their best to ensure those residents with special needs or medicinal care had their needs met.
"Meal and accommodation costs for those in hotels have been paid by Scottish Power's contractor."