Scout death: Post-mortem examination due on Elliot Peacock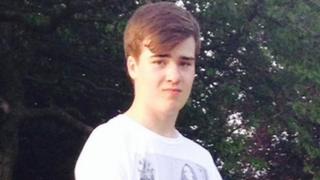 A post-mortem examination is being carried out on a 14-year-old boy from a scout group near Glasgow who died on an adventure holiday in the Italian Alps.
Elliot Peacock, from Newton Mearns, was a member of Eastwood District Scouts.
He died on Sunday in an accident at Lillaz Falls in the Gran Paradiso National Park.
Half of the scout group are due to fly back to Scotland on Tuesday with the other half returning by coach the following day.
Stuart Maxwell, head teacher at Eastwood High School where Elliot was a pupil, said the entire school community was "profoundly saddened".
'Quiet lad'
He added: "Elliot was a genuinely lovely boy, well-liked and well-mannered.
"He would always say hello when he met you around the school. Everyone knew him as a very nice, polite, quiet lad.
"He did well in all his subjects, particularly in physics, enjoyed PE and played guitar, and he had a wide circle of friends.
"We have been deeply moved to see so many of Elliot's friends and pupils from the wider school community arrive at the school to lay flowers and leave cards in tribute to him."
Mr Maxwell revealed pupils and staff will be able to sign a book of condolence at the start of term and record their memories of Elliot.
He said: "We were privileged to have known Elliot for the three years he was with us at Eastwood. He will be very sadly missed by everyone here and all our thoughts and prayers are with his family at this extremely sad time."
Elliot is believed to have been part of a group jumping into water under instruction when he got into difficulty.
Outdoor education provider Acorn Adventure said the scouts were "gorge scrambling", which involves walking up and down a gorge and jumping from a low level into pools.
A spokesman said: "Although Elliot was immediately rescued from the water and given CPR, tragically he could not be resuscitated.
"The thoughts and condolences of all at Acorn Adventure are with Elliot's family and friends.
'Fully-trained'
"The team's efforts are fully focused on ensuring they are supported in any way possible."
The spokesman added: "Gorge scrambling has been operated by Acorn for 18 years and at this particular location for the past five years with hundreds of participants every year.
"It is a low-level combined water and rock activity that involves walking up and down a river gorge and jumping into pools.
"It is controlled by fully-trained and assessed instructors and all participants are equipped with helmets, buoyancy aids, full wetsuits and footwear.
"Senior Acorn operations staff, along with a trauma counsellor, have travelled to Italy to provide all possible support."
An investigation into the incident is being led by the Guardia di Finanza (Finance Guard) of Entreves.
Acorn Adventure said it was working with the Italian emergency services and the Foreign and Commonwealth Office.