Front of sandstone tenement collapses in Glasgow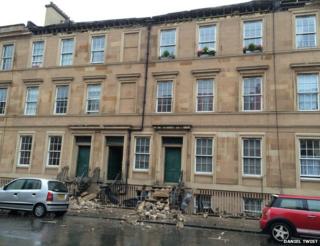 A large section of masonry has collapsed from a tenement building in central Glasgow, showering debris on to flat entrances and the street below.
Police have closed Baliol Street, in the city's Woodlands area, after the collapse was reported at about 13:40.
It is understood that no-one has been injured in the incident.
The masonry formed part of the top section of the blonde sandstone building. Emergency service and utility firms are in attendance.
Eyewitness Daniel Twist described how he heard "a big crack" like "a big clap of thunder" then saw the section of building come crashing down in a "puff of smoke".
"Suddenly people were trying to come out of their houses and I was telling them to go back in as I think it was safer," he said.
"We couldn't see that there was anyone underneath the rubble so I decided to call the fire brigade and the police.
"In that time someone came running over and said 'oh my God, that's my house there' and I said 'you're lucky you're here and not there'.
"We did start to smell gas and I said 'I think we need to get away from the area' because we could smell it was quite strong."
Mr Twist said he was glad that no-one had been injured in the incident.