Campbeltown fishermen bring minke whale ashore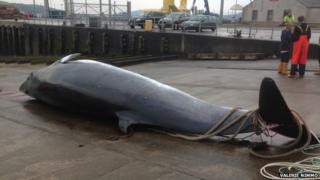 Fishermen in Campbeltown have brought a minke whale ashore after it became snared in their nets.
It is thought that the 26-foot long animal was already dead when it was caught just outside Campbeltown Loch.
The three-tonne whale was brought ashore by the crew of The Crest on Tuesday.
The Campbeltown Courier reported that local people had gathered on the town's New Quay to see the unusual catch.