New Lanark tenement gets lotto cash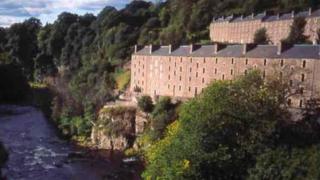 A tenement block used by mill workers in the conservation village of New Lanark is to be restored after being awarded Heritage Lottery Fund cash.
Double Row, the last derelict tenement row in the 18th century village, is part of a £1.6m project, which the fund has agreed to support.
The grant means they can restore seven of the tenements for residential use.
The eighth, Museum Stair, will become a 3D visitor attraction.
New Lanark in South Lanarkshire, founded in 1785, became famous as a model industrial community under the "enlightened" management of Robert Owen in the early 19th century.
Owen abolished child labour and corporal punishment and villagers were provided with decent homes, schools and evening classes, free health care, and affordable food.
Lorna Davidson, director of New Lanark Trust, said: "This is a big step forward for New Lanark Trust in finally achieving the restoration of Double Row, the last tenement block which remains to be brought back into use.
"New Lanark is a Unesco World Heritage Site and conservation standards require to be world-class.
"Some of the earliest restoration work carried out in the village in the 1960s is now in need of upgrading and it is extremely encouraging that HLF recognises and supports the significance of the works that we are planning to carry out."
Other projects which received a share of the £5m funds announced on Monday include Kirkintilloch Town Hall and Davidson Cottage Hospital in Girvan.