Unite union suspends Faslane and Coulport bases pay strike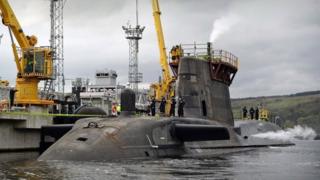 A planned strike over pay by workers at the Faslane and Coulport naval bases on the Clyde has been suspended.
The Unite union said it called off the action after Babcock Marine indicated it wanted to return to negotiations and agree an improved pay offer.
If the walkout had gone ahead on Wednesday, it would have been the first time in 42 years that workers at both bases had been on strike.
Babcock said it welcomed the move while discussions continued.
The Faslane base is home to the UK's fleet of Trident nuclear submarines.
Unite members had voted overwhelmingly to take strike action over a below-inflation pay offer of 1% from Babcock Marine.
The action would have commenced with a two-hour walkout at both bases at 10:00 on Wednesday.
'Good faith'
A work to rule, call-out ban and a ban on all non-contractual overtime would also have been implemented.
Unite national officer Ian Waddell said the action had now been suspended to allow fresh negotiations.
"Babcock management has said it wants to negotiate an improved, consolidated pay deal, so as a gesture of good faith we have agreed to suspend industrial action in order for discussions to take place," he said.
"We tentatively welcome this step forward by the company and we are optimistic that Babcock now shares our desire to reach a consolidated pay deal reflective of the outstanding loyalty and service workers on the Clyde consistently give both Babcock and the Ministry of Defence."
The union said fresh talks would get under way on 24 February and Babcock had extended "the validity of Unite's significant mandate for industrial action by 28 days".
This means another ballot for strike action will not be required if negotiations fail.
A Babcock spokesman said: "Babcock welcomes Unite's decision to suspend industrial action while discussions continue to progress the current pay negotiations".