Clutha helicopter crash: Benefit gig held in Glasgow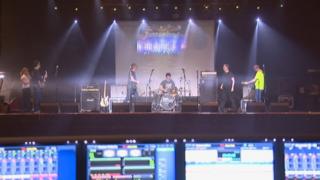 A charity gig to raise money for families affected by the Clutha helicopter crash in Glasgow is being held at the city's Barrowlands venue.
Big Country will headline alongside other acts including Frightened Rabbit, Alabama 3 and the Primevals.
About 300 tickets for the gig were given to emergency service staff who responded to the incident.
Ten people died when the Police Scotland helicopter came down on the Clutha bar on 29 November last year.
A report from air accident investigators published on Friday said the helicopter suffered a double engine failure.
The Air Accident Investigation Branch (AAIB) said both engines "flamed out". Some commentators have suggested a problem with the fuel supply.
Poetry reading
The concert at the Barrowlands will be the first time an all-day gig has been held at the city's famous venue.
Families of victims of the crash have been invited to a special VIP area.
Barrowland stagehand Billy Coyle said: "All of the families affected by the crash have been invited today.
"The family of John McGarrigle, who died in the crash, will be here and have given their permission for a reading of his poetry.
"Scott Penden has also written a new song for the gig called the Clutha Lament."
The three air crew, and seven people inside the busy pub, died in the crash.
The helicopter crew were pilot David Traill, Pc Tony Collins and Pc Kirsty Nelis.
The seven customers in the Clutha who died were John McGarrigle, Mark O'Prey, Gary Arthur, Colin Gibson, Robert Jenkins, Samuel McGhee and Joe Cusker.