Man jailed after liquid cocaine seized at Prestwick Airport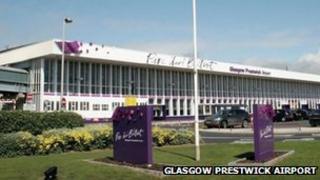 A man has been sentenced to four years in jail after being caught with more than £1m worth of drugs at Prestwick Airport.
The High Court in Glasgow heard that David Thompson, 51, agreed to smuggle liquid cocaine into the country after his Spanish business empire collapsed.
He was arrested in November last year after arriving on a flight from Reus.
Police - acting on a tip off - discovered the drugs which were hidden inside wine bottles in a suitcase.
The court heard Thompson had previously led an affluent lifestyle with a string of firms, a large home and his children at private school.
But, his fortunes changed after a large fire at a pub he ran.
He turned to Spanish criminals for financial help and they ordered him to bring drugs to Scotland when he could not repay the cash.
When officers detained Thompson at Prestwick Airport they found bottles of what appeared to be olive oil and wine inside his suitcase.
Prosecutor Shanti Maguire said: "The liquid in the bottles appeared to be more dense than expected and that this was due to the suspected controlled drugs being concealed within the liquid."
One of the olive oil bottles was first tested and liquid inside was poured and allowed to evaporate at room temperature.
This eventually transformed into a white powder, which tested positive as being cocaine.
Similar tests were carried out on the other bottles and all tested positive for cocaine with an average purity of 77%.
Miss Maguire told the court that the potential value for the drugs recovered - totalling 2.7kg - was just over £1m.
'Error of judgement'
Defending QC Liam Ewing said Thompson had left Scotland 20 years ago and had been involved in a number of successful businesses, latterly running several bars.
However, a fire at one of the pubs left him facing money problems.
Mr Ewing added: "In his efforts to raise finance he then made a serious error of judgement of borrowing money from, let's say, patrons at one of his bars who were known to him."
Thompson was later pressured into repaying the cash and - when he could not - he was told the debt would be wiped if he brought drugs into the UK.
Mr Ewing said Thompson had gone from "considerable affluence" to "letting his family down".
Thompson admitted to a charge of being concerned in the supply of cocaine.
Lord Boyd said the jail-term would have been six years, but for the guilty plea.
The judge told Thompson: "The trafficking of class A drugs is a vile and evil trade."