Driver Andrew Duffy jailed over George Sweeney's death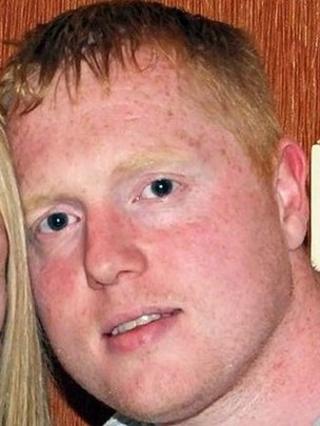 A man who caused the death of an elderly motorist by dangerous driving five months after passing his test has been jailed for four years.
Andrew Duffy, 31, lost control of a neighbour's Volvo V70 in Carwood Street, Greenock, in November 2011.
The car swerved on to the wrong side of the road and hit a Peugeot 206 being driven by 76-year-old George Sweeney.
The High Court in Glasgow heard that Duffy was convicted of drink driving just months before the fatal crash.
Jailing Duffy, judge Lord Matthews told him: "In this case the evidence showed that before the accident you overtook in, I think, an example of bad driving.
"Then two miles further on you failed to negotiate a bend and that led directly to the collision which caused Mr Sweeney's death.
"However, you remained at the scene after the collision and co-operated fully with the investigation, showing an appropriate degree of remorse.
"Nothing I say can ever modify or compensate for the family's terrible, needless and untimely loss."
The judge also ordered that Duffy be banned from driving for six years.
During his trial, the court heard heard how Duffy, from Greenock, Inverclyde, was travelling to his fiancee's house at about 19:30 on 8 November 2011, when the crash happened.
'Reckless and stupid'
Duffy, who seconds earlier had overtaken two cars at speed in nearby Dunlop Street, lost control control of the Volvo on a left-hand bend in Carwood Street.
Bus driver James McLees, who saw the earlier overtaking manoeuvre by Duffy, said in evidence: "I thought his driving was reckless and stupid. I thought to myself he's going to kill someone or himself if he crashes."
Mr Sweeney suffered broken ribs and a fractured breastbone in the crash and was taken to Inverclyde Royal Hospital, Greenock, where he later died.
Pathologist Kerryanne Shearer told the court that Mr Sweeney died due to chest injuries caused by the crash.
Police officer Susan McLennan said Duffy told her he had had trouble with the steering of the Volvo - a Motability car belonging to a neighbour.
She said: "He said he believed the collision was his fault, but added: 'That's what insurance is for.'"
But she agreed with defence counsel Thomas Ross that Duffy did not know at the time that Mr Sweeney was dead.
In evidence, Duffy was asked when he saw Mr Sweeney's car and replied: "When the car slid I saw the headlights. There was nothing I could do, it was too late."
Duffy said he felt devastated when he was told Mr Sweeney had died.