Plans for new £4m venue for Cumbernauld Theatre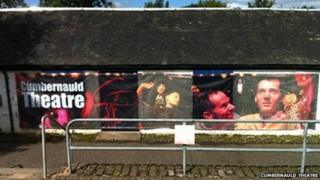 Plans have been announced to relocate Cumbernauld Theatre to a new £4m venue on a North Lanarkshire school campus.
Cumbernauld Theatre Trust and North Lanarkshire Council want to base the 400-seat facility at a redeveloped Cumbernauld Academy.
The school will formally come into being in August with the merger of Cumbernauld Academy and Abronhill High.
Plans for a new school building on the site of the current Cumbernauld High School are currently being developed.
It is hoped that the new school and theatre campus will be ready by autumn 2016.
'Truly thrilled'
The existing theatre complex is based at a former set of farm cottages in Cumbernauld, House Park, and has remained largely unchanged for decades.
The theatre trust and council believe a new facility will help meet the modern needs of performers, artists and audiences.
Cumbernauld Theatre artistic director Ed Robson said everyone was "truly thrilled" at the prospect of "moving to a modern purpose built facility".
"Our current building has served us well over many years but the time is right to move on," he said.
The proposed move would be financed by North Lanarkshire Council, with the theatre making applications for additional cash to the national arts body, Creative Scotland.
Councillor Jim Logue, convener of the council's learning and leisure services, said: "Cumbernauld Theatre Trust is one of the most progressive and respected in the country, with over 20,000 people attending events each year and hundreds of people taking part in drama and dance classes each week.
"This exciting development will give the people of Cumbernauld a facility of national significance and go a long way to matching the group's ambitions."