Early release prisoner Ian Lennox jailed for slashing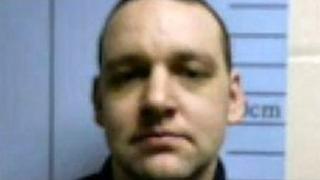 A man who was released early from a jail term for a violent assault has been sent back to prison for slashing another man in front of his grandson.
Ian Lennox, 34, from East Kilbride, admitted attacking William Baird in Saltcoats, Ayrshire, in September.
He mistakenly believed that Mr Baird was responsible for his uncle being arrested by police.
Lennox was jailed for seven years and three months, two years of which is the unexpired part of his previous term.
Jailing him at the High Court in Glasgow, judge Lord Turnbull told Lennox: "You behaved in a violent manner towards an older man in the presence of his 11-year-old grandson.
"It was not only violent behaviour. It must have been terrifying for both of them."
The court heard that Lennox was jailed for eight years and three months in 2008 for assault to severe injury and permanent disfigurement.
'Wrong guy'
While serving this sentence he went on the run for almost three weeks from Castle Huntly prison in 2011.
He was out on licence when he attacked Mr Baird in Hamilton Street, Saltcoats, North Ayrshire.
The court was told that Lennox attacked Mr Baird because he believed the victim was responsible for his uncle being arrested by police.
Lennox asked Mr Baird: "Was it you who grassed my uncle," and then added: "You shopped my uncle."
Mr Baird denied the accusation and replied: "You've got the wrong guy."
Lennox then lunged towards Mr Baird and pulled a knife from behind his back.
He struck Mr Baird on the head with the knife, leaving the victim with permanent scarring.