Judges refuse Kriss Donald killer Imran Shahid's compensation bid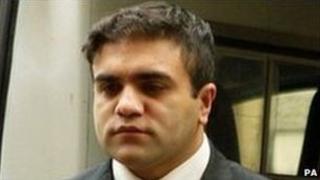 A racist killer who was attacked in prison has lost his bid to win damages for spending five years in jail segregation for his own safety.
Imran Shahid had wanted a £6,000 payout and a declaration that his treatment was unlawful.
The 37-year-old is serving a minimum of 25 years under a life sentence for the murder of Kriss Donald in 2006.
However, judges ruled that segregation was necessary for his safety and refused the claim.
Shahid had raised a claim maintaining that the decisions of prison authorities to keep him virtually continuously segregated between October 2005 and August 2010, when he was allowed to associate with fellow inmates, violated his rights under articles of the European Convention on Human Rights protecting against torture, cruel punishment and the right to private life.
The bid was originally rejected by judge Lord Malcolm in 2011 after a judicial review at the Court of Session in Edinburgh.
But the case was appealed and three judges at the court refused the latest legal challenge.
Lord Drummond Young, who heard the appeal with Lord Menzies and Lord Wheatley, said: "The simple fact is that continuing threats to his personal safety were made. In those circumstances there was no alternative to segregation."
He said it was clear from evidence available to the prison authorities that "serious threats of harm" to Shahid had been made by other prisoners.
One intelligence report from 2006 said prisoners at Glenochil jail in Clackmannanshire had warned that if any of the schoolboy's murderers were housed at the jail they would be murdered and that "there would be a queue of prisoners wanting to do it".
Another report in 2007 warned that Shahid should not be brought into a jail hall and said: "He'll get done big time" and would go out "in a bag".
A further source in 2009 said it was common knowledge among prisoners that there was a contract on him which would be paid if he lost an eye in an attack.
'Continued segregation'
Lord Drummond Young said that threats could not be attributed to a single prisoner or a small group of them.
"It is clear that there was very general ill feeling against him on account of the brutal nature of the murder of which he had been convicted," he said.
"In these circumstances it was plainly not practicable to segregate the prisoners making the threats. Instead, for his own protection, it was decided that he should be segregated."
The judge added: "It should be emphasized that the threats to him were serious and the information about them was based on intelligence that was, generally speaking, reliable.
"The prison authorities have an obligation to ensure the safety of prisoners and in the circumstances segregation of the reclaimer (Shahid) was considered to be the only reliable means of securing his safety."
Lord Drummond Young added the appeal judges were "quite satisfied that adequate grounds existed for the continued segregation".
The appeal judges heard that although Shahid was segregated for a total of four years and eight months, he was not in total isolation. He was granted permission to phones and visiting, and regular reviews of his of his case were also carried out.
After his return to the mainstream prison population he was attacked by other inmates in a gym ambush at a Kilmarnock jail where he suffered a fractured jaw, cheekbone and shattered teeth. Doctors said the bodybuilder survived the assault because of his muscular build.
Shahid was jailed with others after Kriss was abducted at Kenmure Street, Pollokshields, in Glasgow, in March 2004, before being stabbed and set on fire.