Glasgow arts venues awarded millions in funding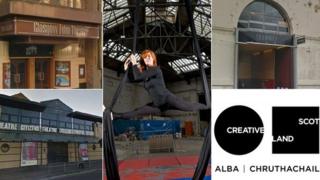 Some of Glasgow's highest profile arts venues have been awarded millions of pounds in development funding.
Creative Scotland has given £1.5m to the Citizen's Theatre towards a comprehensive revamp of the building.
Glasgow Film Theatre has been awarded £536,900 to help extend and improve its existing listed Rose Street premises.
The Wasps Trust will use £941,250 to develop a dance theatre at the Briggait and the Tramway has been given £108,840 to renew and upgrade sound equipment.
An award of £114,071 has been given to the Woodlands Community Development Trust to transform a gap site in the city's west end into a community centre for arts and education.
Three projects in Argyll and Bute have also been given funding.
'Cultural infrastructure'
The Artist Centre redevelopment project at Cove Park will use £621,663 to replace the current artist centre building and adjacent studios.
A development award of £15,000 has been allocated for the refurbishment of the historic Dunoon Burgh Hall. This should lead on to additional funding of £465,000.
Creative Scotland has also allocated £100,000 for the development of a cultural resource at St Peter's Seminary. This should lead on to additional funding of £400,000.
Janet Archer, chief executive of Creative Scotland, said: "These funding awards support important elements of the cultural infrastructure across Scotland and will enable exciting and important projects to progress and develop.
"All of these awards, and those that have come before, help to ensure that more people, in more parts of Scotland, can continue to access and enjoy excellent artistic and creative experiences."