Paul Donnell jailed over guns and drugs find in Erskine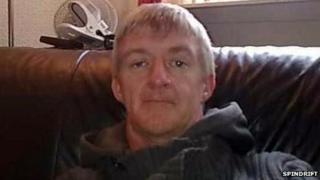 A man who was caught with £61,000 of drugs and an arsenal of weapons and live ammunition has been jailed for nine years and four months.
Paul Donnell was found with cocaine and heroin, five handguns, a rifle and bullets in his Renfrewshire home.
The 43-year-old said he had a £70,000 drugs debt but refused to say if he had been forced to store the items.
He was jailed at the High Court in Glasgow after admitting a string of firearms and drugs charges.
Jailing Donnell, judge Lord Turnbull told him: "You were prepared to allow your home to be used as an armoury.
"This demonstrates that you were assisting some of the most dangerous criminals in our community."
Donnell smiled and winked to family members sitting in court as he was led to the cells.
Police raided Donnell's home at St Anne's Wynd in Erskine in September last year.
Smith and Wesson
Officers initially believed he was only storing drugs at his rented flat before discovering the cache of guns.
These included a Smith and Wesson revolver wrapped in a kitchen cloth in a cupboard.
A Russian Baikal pistol was also found. The other firearms seized were a Rossi revolver, two Glock self-loading pistols and a bolt-action hunting rifle.
All of the firearms were in working order.
The court heard the majority of them were found in the loft along with rounds of ammunition, a silencer and a sight.
Officers also discovered heroin and cocaine with an estimated street value of £61,000.
Other finds included almost £15,000 in cash, 12 mobiles phones, two laptop computers and a receipt for a £1,300 handbag.
Donnell admitted everything seized in the flat was his. However, he refused to answer when asked whether he had been forced or threatened into storing the guns and drugs.
He did claim that he had a £70,000 drug debt to "unnamed persons".