Failing elderly Torbrae Care Home in Castlemilk to close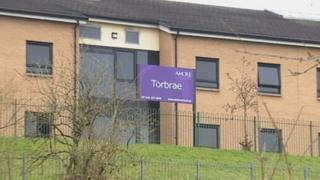 A care home for the elderly in Glasgow which received damning reports from inspectors is to close after its owners were unable to make improvements.
Torbrae Care Home was issued with a formal improvement notice by the Care Inspectorate over failings in quality of care, management and staffing.
Amore Care, which runs the facility in Castlemilk, has now said it is unable to make the necessary improvements.
Patients will be moved to other care homes before it is closed in April.
Improvement failures
A spokeswoman for Torbrae said: "Although this has not been an easy decision to make, we are convinced that it is the right one.
"We have invested considerable resource into the home over a long period of time but it has not proved possible to make the sustained improvements that we ourselves expect, and that are demanded by commissioners and the Care Inspectorate.
"The residents, our employees and the families of the people we support were told of the closure at the earliest possible opportunity."
The spokeswoman added: "We will be working with residents, their relatives and all agencies to help find alternative homes with as little disruption as possible. We also will support staff in helping them find alternative employment."
Torbrae provides care for up to 88 older people with dementia.
Staff along with patients and their families were given three months notice of the planned closure at a meeting on Monday night.
The decision came after a Care Inspectorate report, from a visit in November, gave the facility a grading of one "unsatisfactory" - the lowest possible - for quality of care and support and quality of environment.
Grades of two - "weak" - were given for quality of staffing and quality of management and leadership.
Robert Peat, the Care Inspectorate's director of inspection, said: "We inspected Torbrae recently and found significant concerns about the quality of care.
"We served the home with a formal Improvement Notice setting out the changes needed to improve.
Families' complaints
"The providers have now told us they intend to close the home. Residents, their families, and staff have been informed."
Mr Peat said the Care Inspectorate was working closely with Glasgow City Council and the home to ensure patients were provided with alternative care.
The Care Inspectorate has received dozens of complaints about Torbrae over the past eight years.
Media reports last year covered allegations that some staff had turned of safety buzzers so they would not be disturbed by patients.
In May 2012, staff nurse Stephen McMahon was found guilty of assaulting three vulnerable patients at the care home between August 2009 and May 2010.
Following a trial at Glasgow Sheriff Court, he was fined £600 and later struck off by the Nursing and Midwifery Council.