Darren Murphy jailed for killing John Morrison in Glasgow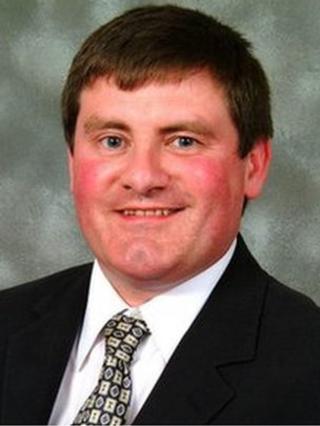 A man who killed a former leader of East Dunbartonshire Council with a single punch days before Christmas has been jailed for five years.
Darren Murphy, 25, hit John Morrison in the face in Dunlop Street, Glasgow, on 22 December 2012, causing him to fall over and hit his head.
Murphy then left the 50-year-old lawyer in the street to go to a nightclub.
He claimed to have acted in self defence but was convicted of culpable homicide at the High Court in Glasgow.
Jailing him, temporary judge Norman Ritchie QC told Murphy: "Fatefully John Morrison's journey home that night crossed the route taken by you and your friends.
"It is not entirely clear what caused the altercation, but it is pretty certain it was not much."
The judge said Murphy's decision to confront his victim was "without proper reason".
Murphy looked ashen-faced as he was lead handcuffed to the cells. Many of his friends and family broke down in tears.
Mr Morrison - the former Lib-Dem leader of East Dunbartonshire Council - was attacked in the early hours of 22 December 2012.
The lawyer had earlier been on a festive night out with colleagues from Glasgow City Council, where he worked as a legal manager.
CCTV footage
His friend and workmate Jennifer McMartin told the jury: "He was in really good form that night.
"He said he was in a good place in his life both professionally and personally having met his partner David."
The court was shown CCTV of footage of Mr Morrison later in the city's Argyle Street, close to the St Enoch Centre.
Murphy and his friends were in the same area heading to the Arches Nightclub.
Murphy's friend Samantha Mulgrew claimed during the trial that Mr Morrison, of Milngavie, suddenly appeared next to her mumbling, which gave her a "fright".
For some reason, Murphy and his group then turned on the solicitor.
CCTV showed the group heading towards him before one pushed Mr Morrison as he appeared to be walking away.
Seconds later - and out of shot - 6ft 1in tall Murphy then punched Mr Morrison in the face.
Murphy then carried on to the nightclub.
Mr Morrison died in the street despite medics coming to his aid.
The ferocity of the blow had also broken his eye socket and nose.
'Proper punch'
Ms Mulgrew later told police that he had landed a "proper punch" on the ex-council leader.
But, during the trial, Murphy, of the city's Bridgeton area, denied he had punched Mr Morrison - instead claiming he had "hit him with a palm" to get him away.
Murphy insisted he had "felt threatened" by Mr Morrison that night.
He then claimed he did not know Mr Morrison was seriously hurt at the time - but when he later discovered he had died he "felt sick".
The court also heard Murphy demanded that friend Graeme Thomson did not tell police he had punched the lawyer.