Roystonhill block of flats demolished to make way for new homes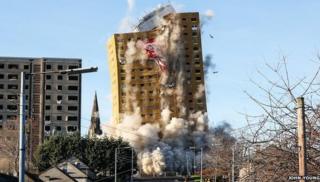 A 25-storey block of flats in the north of Glasgow has been demolished by controlled explosion.
The Glasgow Housing Association block on Rosemount Street, in the Roystonhill area, was reduced to 10,000 tonnes of rubble in just five seconds.
About 40kg of explosives were used to bring the 1960s building down.
The area will now be cleared and work on 100 replacement homes will begin next summer as part of a plan to regenerate the north of Glasgow.
A decision was taken to demolish the block following a decline in popularity as well as high running costs.
Alex McGuire, director of property for Wheatley Group, the GHA's parent company, said: "This is one part of a new beginning for the north of Glasgow. These flats were home to hundreds of families since 1968 - but their time had come to an end.
"Exciting regeneration plans will see the area transformed with hundreds of new homes being built."
The regeneration plans include 100 new homes at Rosemount Street, as well as 141 homes at Sighthill and 157 in Barmulloch, he said.
Some former residents of Rosemount Street were re-housed locally in GHA's new homes.
Alma Kibrom, 39, lived on the 15th floor of the block for seven years and now lives in a new home in Easterhouse with her three children.
She said: "It was a nice area to live in and the people were friendly. It is sad to see them go but we now have a new home with our own garden."
The clear-up operation of the Rosemount site will take several months and the new homes are scheduled to be completed by early 2016.