Business concern in Glasgow over Prestwick Airport deal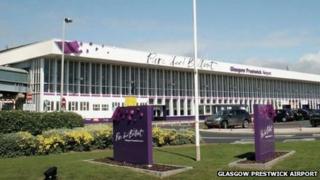 Business leaders fear Glasgow Airport could suffer after nearby Prestwick was bought by the Scottish government.
Ministers concluded a deal for £1 last week to bring the loss-making Ayrshire airport into public ownership.
That has prompted Glasgow Chamber of Commerce to say the move "may have detrimental effects" for the city.
It has written to ministers asking for the government to explain its aviation strategy and "clarify the competitive playing field" for Glasgow Airport.
In a letter to Deputy First Minister Nicola Sturgeon, Glasgow chamber chief executive Stuart Patrick sought assurances that Prestwick Airport would not be given preferential treatment.
'Detrimental effects'
"In buying Glasgow Prestwick Airport, the Scottish ministers now have a direct stake in the performance of the airport industry in the central belt of Scotland," he said.
"We are concerned that this may have detrimental effects on the performance of Glasgow International Airport.
"Indeed, whilst we understand the natural desire to protect employment in Ayrshire and sympathise with that desire, we wonder whether the maintenance of two airports in the west of Scotland is affecting the region's ability to make compelling investment propositions to investing airlines."
Mr Patrick said the Glasgow business community would like to understand what impact the Prestwick acquisition would have on Glasgow.
He also sought clarity over "what impact the decision will have on the ability of Glasgow International Airport to share commercially confidential information about its strategic intentions with Scottish government officials".
Mr Patrick's letter concluded: "We believe we are asking these questions in the absence of a clear understanding of the Scottish ministers' aviation strategy.
"We would welcome the opportunity to meet with you at your earliest convenience to clarify the competitive playing field upon which Glasgow International Airport is now playing."
'Viable enterprise'
The Scottish government acquired Prestwick last week from New Zealand firm Infratil for the sum of £1.
The facility has incurred annual losses of £2m.
Deputy First Minister Nicola Sturgeon said the deal would help protect the airport and the jobs it supported.
She told BBC Scotland that work would now begin for "turning Prestwick around and making it a viable enterprise".
A spokesman for Transport Scotland, the Scottish government's transport agency, said: "Investment by the Scottish government will be undertaken on a commercial basis.
"There will be no ongoing subsidy of the airport's operations and we expect investment to generate a long-term return for taxpayers' money.
"This investment will help ensure the continuation of robust competition between airports in Scotland and not at the expense of it."
The spokesman added that Transport Scotland was happy to meet Glasgow Chamber of Commerce.