Azeem and Zeeshan Aslam jailed for Anthony Dryden killing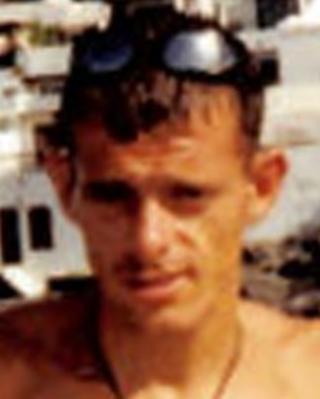 Two brothers have been jailed for killing a man after a feud between rival kebab shops turned violent.
Azeem and Zeeshan Aslam were convicted of culpable homicide after the fatal attack on Anthony Dryden in Airdrie, North Lanarkshire, on 23 March.
The 42-year-old was battered to death after smashing a window at the Aslams' family takeaway shop in Airdrie.
At the High Court in Glasgow, Azeem Aslam, 26, was jailed for eight years. Zeeshan Aslam, 23, got seven years.
Judge Lord Stewart imposed an extended sentence of 11 years on Azeem Aslam, meaning he can be recalled to prison to serve the remaining three years if he re-offends.
Jailing the brothers the judge told them: "I am bound to impose substantial sentences of imprisonment."
During their trial, the court heard how the killing brought to a head a dispute between the Ali's Kebabs shop, which was owned by the Aslams, and the owners of the nearby Nico's restaurant, where Mr Dryden's aunt worked.
This included claims of a fire attack, extortion and other threats.
The jury heard how Hamid Shah applied to set up Nico's takeaway in the same street as Ali's Kebabs.
The Aslam family objected to the council, but permission was eventually granted and Mr Shah began renovating his premises.
However, Mr Shah and his employees became targets of intimidation even before his shop had opened.
'Set on fire'
Prosecutor Murdoch MacTaggart asked Mr Shah: "Did that bother you?"
He replied: "Yes, my shop was set on fire as well. I reported it to the police."
It was also alleged the Aslams demanded £150 a week or Nico's would be burned down.
Mr Shah told the jury one of the brothers later passed his shop and made a cut-throat gesture.
Asked what he thought this meant, the witness added: "It is because they are competition and they are trying to scare me."
Windows at Nico's were also then smashed on two occasions.
Baseball bat
On 23 March this year - the day of the killing - Ali's Kebabs was struck in an apparent revenge attack when Anthony Dryden broke a window.
Mr Shah told the jury he was not behind it but that one of his workers - an aunt of Mr Dryden - had mentioned it as the "police were not doing anything".
Mr Shah said: "She did suggest it, but I said no. She said it two or three times, but then I said it is up to you what you want to do."
The jury heard how the Aslam brothers raced out of their shop and chased Mr Dryden into a back garden nearby.
Azeem Aslam repeatedly hit Mr Dryden with a baseball bat while his brother struck the victim with a piece of wood that had been lying on the ground.
The pair then fled, leaving their victim to die.
Brain injuries
Azeem Aslam was later heard saying: "Fixed that guy - even broke the baseball bat."
Mr Dryden, of Motherwell, suffered serious skull and brain injuries from which he did not recover.
Azeem Aslam testified during the trial and admitted there had been "tension" between the two takeaways.
He recalled hitting Mr Dryden "four or five times" that day, but only in self defence. He claimed the victim had a hammer.
Azeem Aslam insisted: "I had to do it - I had no choice."
But prosecutor Mr MacTaggart said Mr Dryden was the one defending himself as the brothers came at him in a "pincer movement" with "weapons raised".
The accused denied that was the case but the jury convicted them both of culpable homicide.