'Nicey to monster' James Keaney guilty of raping women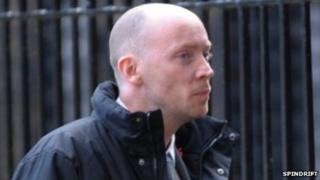 A man is facing a lengthy jail term after being convicted of raping and physically abusing two girlfriends.
James Keaney, 36, from Glasgow, abused the women between 1996 and 2005.
One victim described how he went from being "nicey-nicey to monster". The abuse began after each woman became pregnant and he raped one after she returned from hospital with her baby.
At the High Court in Glasgow, sentence on Keaney was deferred and he was given bail by temporary judge Norman Ritchie.
The court heard that in the case of the woman raped after returning from hospital with her baby, security guard Keaney, from the Castlemilk area, dragged her across the kitchen floor before attacking her.
Regularly raped
As he raped the 37-year-old, who cannot be named for legal reasons, Keaney said: "That's what you get for having a child to someone else."
The victim told prosecutor Paul Kearney that the abuse began early in her pregnancy and was like "a bolt out of the blue".
She said: "The first time was a slap which made my face swell up."
After that she said that she was abused almost daily and regularly raped by Keaney.
The woman described him as controlling and said he watched her when she went shopping and would interrogate her about anyone she spoke to.
If he did not believe what she was telling him he would drag her about the house by the arm and hair.
Keaney would also tie her up with belts and put her in a hall cupboard.
When it came to sex, the court heard he would not take no for an answer.
His second victim, aged 32, also suffered the same abuse when she became pregnant.
The court was told that Keaney would prevent her from seeing her family.
He would take the house keys with him and also put the pram in his car. He would also listen in to her phone calls.
Similar accounts
The victim told the court: "If I saw a boy I knew from school I wouldn't even look at him because of the accusations and interrogations that would follow."
The court heard that the two women did not know each other and both did not go to the police.
They were both contacted during a police investigation.
Mr Kearney added: "These women were strangers to each other yet gave similar accounts of physical and sexual abuse at the hands of the accused.
"Their only link was to have a relationship with a man who systematically lowered their self worth, belittled and assaulted them, controlled them, dominated them, and raped them."
In evidence Keaney claimed both women were liars and had made up the allegations to get at him.
The jury did not believe him, however, and convicted him of raping and physically abusing the two women.