Inspectors raise Monklands Hospital concerns again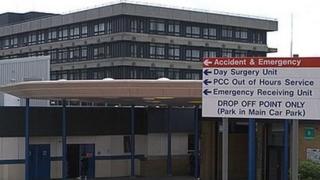 Health inspectors have found failings in infection control procedures at a Lanarkshire hospital for the second time in nine months.
Monklands Hospital was given five required improvements following an inspection visit in January.
Another visit in September found three had not been made relating to isolation rooms, sharp equipment and recording of peripheral vascular catheters.
NHS Lanarkshire said it had an action plan in place to address concerns.
The Healthcare Environment Inspectorate (HEI) carried out the unannounced visit to Monklands Hospital on 12 September.
The findings of the inspection team were published on Tuesday.
'Good progress'
HEI chief inspector Susan Brimelow said: "We are assured that NHS Lanarkshire is making good progress against the standards to protect patients, staff and visitors from the risks of acquiring a hospital-acquired infection (HAI).
"In particular, a new standard operating procedure has been introduced to check mattresses are clean and ready to use, and a new system of regular mandatory HAI update training has been introduced for all staff.
"However, we did find that further improvement is required in the recording of the insertion of peripheral vascular catheters in patient healthcare records, compliance with sharps management policy, and, staff awareness of risk assessments when leaving isolation room doors open."
Iain Wallace, medical director at NHS Lanarkshire, said that overall the HEI report was "very positive" and showed the hospital was "making good progress to continually improve standards of cleanliness and infection control".
He added: "We are committed to further improvements and have drawn up a detailed action plan to address the areas identified in the report.
"This includes extensive communications to make staff aware of the correct procedures for the use of sharps and temporary closure mechanisms for all unattended sharps boxes in clinical areas.
"We are also putting in place more robust communications to ensure a full risk assessment is documented when isolation doors are left open, and additional audits to provide assurance that the insertion of peripheral vascular catheters is being recorded."