Plans for radio studios in two Scottish jails criticised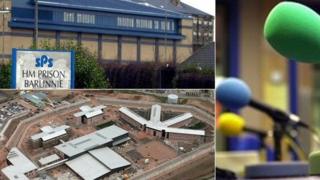 A Conservative MSP has criticised plans to install radio studios at two of Scotland's largest prisons.
The Scottish Prison Service (SPS) has tendered contracts for the studios at Barlinnie Prison in Glasgow and the soon-to-open Grampian Prison.
It is part of a scheme to educate prisoners and aid rehabilitation.
Alex Johnstone MSP, who represents North East Scotland, said the £70,000 cost would be better spent preparing prisoners for work on their release.
The invitation to tender issued by the SPS, which closed on 14 October, said the studios would "facilitate communication and education within the institutions".
Weekly programmes
It said: "The system will be in use at least five days a week to produce a regular weekly programme of events, all pre-recorded, there will be no live broadcasts.
"The system will also be utilised by the education department to train prisoners in media presentations, possibly to SVQ Level."
The studios will be installed at Barlinnie Prison in Glasgow and HMP Grampian, which is set to open next year in Peterhead, Aberdeenshire, and replace the existing Aberdeen and Peterhead jails.
Radio studios are already in use at Polmont Young Offenders Institution and Edinburgh Prison.
A spokesman for the SPS said: "We have successfully implemented radio stations at other prisons which have previously received positive comment from the former chief inspector of prisons.
"Radio stations have been shown to be a positive means to engage those in our custody."
Mr Johnstone said he believed the cash earmarked for the studios could, perhaps, be better spent preparing prisoners for release.
He told BBC radio's Good Morning Scotland programme: "When you consider the economy of the north east is extremely short of labour at the moment, there are potential jobs for prisoners on release.
"I would suggest that the £70,000 might have been better spent on preparing prisoners for the workforce once they're released.
"I'm not entirely sure that there are all that many jobs for DJs out there. I would prefer to see them trained for something that can take them straight into a job when they emerge from prison."
Important role
Mr Johnstone added: "I may be accused of being a killjoy but what I want to see is people trained and into constructive jobs once they emerge from prison and I think £70,000...could effectively provide training for a number of prisoners."
Former prisoner, Pete White, who is a trustee of the penal reform charity, Howard League Scotland, said radio studios could have an important role to play in jails.
He told Good Morning Scotland: "I think it's important to recognise that in addition to the idea of custody and order within prisons, there is also care and opportunity as part of the SPS programme.
"It's to give individuals in prison an opportunity to recognise that they can move on in their lives by being human contributing citizens and doing things that people outside might do.
"It gives them a far better chance of managing their way back into society on release."
He added: "When you bear in mind that the SPS budget for a year is about £486m, £70,000 is about the same cost or just over the cost of looking after one prisoner for a year."