Tobermory lifeboat crew commended over Fri Ocean rescue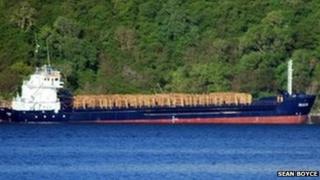 Tobermory lifeboat's volunteer crew has been commended for a 31-hour rescue mission to help a stricken cargo ship.
The lifeboat was launched on 14 June when the 90-metre Norwegian coaster Fri Ocean ran aground in the Sound of Mull.
The volunteer crew assisted with pumping operations and helped refloat the vessel before escorting it to Oban.
RNLI's operations director, George Rawlinson, praised their "perseverance and professionalism". The operation was the longest in the station's history.
In his letter of commendation, Mr Rawlinson wrote: "The crew demonstrated excellent teamwork and perseverance during a long service with several crew changes and I commend the commitment, perseverance and professionalism of all involved."
Tobermory RNLI Lifeboat operations manager, Ian Stevens, said: "This rescue operation was not only the result of first rate teamwork but also demonstrates the commitment of our volunteers who give up so much of their time to save lives at sea."