Crews deal with fire in Rutherglen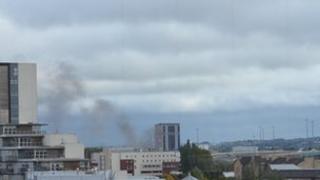 Emergency services are responding to a fire in Rutherglen which broke out in the early afternoon.
Plumes of smoke could be seen drifting over parts of Glasgow and the Scottish Fire and Rescue Service crews were on their way to the scene.
A fire service spokesman said they had taken multiple calls reporting flames and smoke close to Main Street.
It is thought the fire may be on an area of waste land.