Thousands attend Glasgow Pride march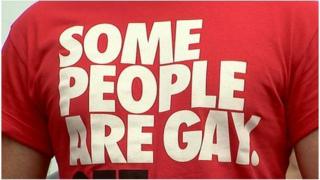 The organiser of this year's Pride Glasgow march has said the event was the biggest ever.
Alastair Smith, Pride Glasgow's chief executive, said it was given greater significance because of concern about the treatment of gay people in Russia.
The event began and ended at Glasgow Green. About 7,000 are thought to have taken part.
The rally at the Green included stalls, funfair and musical entertainment, as well as political speeches.
Mr Smith told the BBC: "This year it has grown in size quite significantly.
"We've probably got 7,000 people here over the course of the day.
"There have been speeches from the stage about the issues there are in Russia, which is probably quite close to a lot of our hearts here today."