Glasgow sporting and cultural events lead tourism push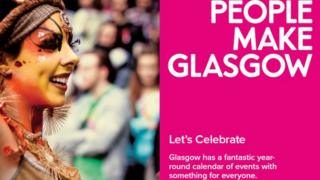 Glasgow's busy sporting and cultural scene has been placed at the heart of a campaign to boost visitor numbers to the city and its many events.
Let's Celebrate is the first campaign under the banner of the city's new brand, People make Glasgow.
It focuses on raising awareness of the city's year-round events calendar.
Glasgow is looking to build on the 2.2 million visitors it attracts each year, who generate an estimated £578m for the city's economy.
Many of the domestic and overseas tourists come to attend major events such as Celtic Connections, Glasgow Film Festival, Glasgow International Comedy Festival, the Merchant City Festival, Glasgow Mela and the World Pipe Band Championships.
The latest marketing push is designed to highlight the city's ongoing appeal as it prepares to host the 2014 Commonwealth Games.
'Enviable reputation'
The Let's Celebrate campaign will use TV, radio, newspaper and outdoor advertising across west central Scotland.
A real-time directory of events listings will also be available through the People Make Glasgow website.
Glasgow City Council leader, Cllr Gordon Matheson said: "Glasgow enjoys an enviable reputation for winning and delivering major events on a truly global scale.
"We're recognised as one of the world's top 10 sporting cities and over the next two years we can look forward to a packed schedule of the most exciting events the city has ever seen.
"We're entering an extraordinary period for Glasgow, with just one year to go until the Commonwealth Games and some of the world's best events set to take place on our doorstep. This is our time to shine, so let's celebrate."