Sharkey fire killers Scott Snowden and Robert Jennings jailed for life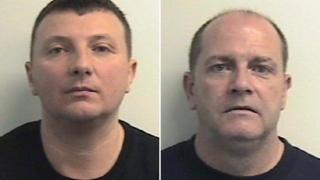 Two men have been jailed for life for murdering three members of the Sharkey family by setting fire to their home in Helensburgh, Argyll and Bute.
Scott Snowden, 38, and Robert Jennings, 50, were convicted following an 11-week trial at the High Court in Glasgow.
The fire they set killed Thomas Sharkey Snr, 55, his son Thomas Jnr, 21, and daughter, Bridget, eight.
Snowden was jailed for a minimum of 33 years, while Jennings was told he must serve at least 29 years in prison.
Sentencing the pair, Judge Lord Matthews said: "You have been convicted of what is without doubt the most appalling crime I have ever been involved with in my professional career, the murder by fire of three quarters of a family."
'Terrible revenge'
Referring to their convictions on Wednesday, Lord Matthews said: "Not only was yesterday the second anniversary of that dreadful crime, it also marked the culmination of a campaign characterised by violence, revenge, intimidation and cowardice."
Addressing Snowden, he said: "You Mr Snowden, in the face of any slight or insult or setback would exact terrible revenge, at times swift and at other times when the opportunity presented itself."
The judge said the revenge attacks carried out by Snowden had "the potential to cause devastation and loss of life" or have "ruinous consequences" for the victims financially.
Lord Matthews added: "These crimes were cowardly enough in themselves but it is also a common feature of them that you cynically recruited others to do your dirty work for you, making sure that you had a cast iron alibi.
"It may be that you thought that you were safe from prosecution, hoping that those who knew about your conduct would not alert the authorities.
"If that is what you thought, the fatal fire put an end to such aspirations."
Other charges
Turning to Jennings, the judge said: "You had no discernible motive to become involved in the matters of which you stand convicted, but you were nonetheless prepared either to carry them out yourself or to assist in arranging for others to do them.
"As far as the fatal fire is concerned, while it may be that you did not intend all of the consequences which ensued, your actions in setting fire to the only door of the house in the early hours of the morning virtually guaranteed that the outcome would be as terrible as it proved to be."
The sentences handed out by Lord Matthews to Snowden and Jennings, which were backdated to June 2012, were among the longest ever passed in Scotland.
Both men were also convicted of attempting to murder Mr Sharkey's wife, Angela, 48, who survived the fire, and of attempting to murder three members of the McGinley family by setting fire to their home.
Snowden, who is already serving a 19-month sentence imposed in December 2011 for drugs offences, was also found guilty of other fire-raising charges, assaults, breach of the peace and supplying cocaine.
Jennings was also found guilty of assaults and supplying cocaine.
Charges against Jennings for fires at a house in Rhu in September 2009, and the Garth Inn, Helensburgh, on June 2009 and at the Mariners pub in Helensburgh in April 2010 were found not proven.
The trial heard how drug dealer Snowden would exact revenge against anyone who he perceived had slighted him.
This included setting fire to local pubs he had been barred from and the homes of people he held grudges against.
Snowden also assaulted people who had crossed him.
Drug sentence
The trial heard that Mr Sharkey, who himself had previously served a prison term for drug dealing, was one of the people Snowden held a grudge against.
Snowden became enraged when Mr Sharkey intervened in a drugs debt that he was owed by the fire death victim's niece.
Mr Sharkey later told the family he had sorted Snowden out.
To exact his revenge, Snowden had The Mariners pub, which was owned by Mr Sharkey, burned down before it was opened. The blaze left Mr Sharkey in financial difficulty.
Snowden did not stop there, however, and ordered Jennings to set fire to Mr Sharkey's home.
Jennings carried out the act while Snowden was on a family holiday in Mexico, seemingly giving him the perfect alibi.
His enforcer was captured on CCTV in the vicinity of the Sharkey family home shortly before and after the fatal fire.
Jennings was later identified by a police officer and other witnesses by his distinctive walk.
Once at the Sharkey family home, at about 05:00 on 24 July 2011, Jennings poured petrol through the letterbox of the only door to the house and set it alight before leaving the scene.
The fire took hold quickly and sent thick black smoke throughout the house.
Thomas Sharkey Snr was asleep downstairs and managed to climb out on to a ledge, where he was rescued by firefighters.
Smoke inhalation
He had breathed in toxic smoke and sustained 30% burns to his body. He died in hospital six days later from multiple organ failure.
His son, Thomas Sharkey Jnr, was pronounced dead at the scene and his daughter, Bridget, died in hospital later that morning. Both died from smoke inhalation.
Mr Sharkey's wife Angela was the only member of the family to survive the blaze.
She eventually came off a life support machine only to be told by relatives that her family was dead.
The jury heard that when told that Mr Sharkey had died in the fire, Snowden replied: "He got what he deserved."
During the trial, both accused denied the three murders and tried to lay the blame on members of Thomas Sharkey's family, including his cousin Mark, who had stabbed Mr Sharkey Snr four months before the fatal fire.
The jury did not believe them, however, and convicted both men of murder and the attempted murder of Angela Sharkey as well as the other charges.
The conviction of Snowden and Jennings was the culmination of a massive police investigation, which saw 70 officers drafted in to find the killers of Mr Sharkey and his two children.
With both now serving life sentences, a catalogue of crime and intimidation in Helensburgh, at the hands of two dangerous murderers, has been brought to an end.
Following the sentences, west of Scotland procurator fiscal John Dunn said: "Snowden and Jennings' campaign of vengeance and violence culminated with the unspeakably callous and cowardly murders of three of the Sharkey family.
"Their conviction and sentence today now brings them to justice.
"We hope that their victims, and the wider community in Helensburgh, can start to rebuild their lives."