Former PC Dean Burnett jailed for cash and drugs thefts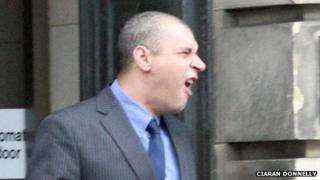 A former constable who stole drugs and more than £200,000 from Scotland's most secure police station has been jailed for 45 months.
Dean Burnett, 43, was responsible for looking after court production items.
The High Court in Glasgow heard how he turned to theft and spent the money on betting and prostitutes.
Law graduate Burnett carried out the thefts while working in Govan, Glasgow, between August 2010 and January last year.
The court was told Burnett suffered serious mental health problems but Judge Sean Murphy QC said: "The breach of public trust is such that a significant custodial sentence is the only one the court can pass."
Burnett was convicted earlier after a trial. Sentence was deferred for a background report and a psychiatric assessment.
'Bizarre' offences
Jailing first offender Burnett, the judge described his offences as "bizarre".
Outside court, Burnett's lawyer Aamer Anwar demanded an inquiry into why a man with "severe mental health" issues was put in control of weapons, cash and drugs.
He said: "Dean Burnett was a police officer with over 18 years service, but, in 2008 because of bogus allegations, he was suspended.
"Suffering from severe clinical depression, anxiety and suicidal thoughts, he was deemed unfit for work. Despite this, he claims that in 2009, he was forced back to work after being cleared of the allegations."
He went on: "He now faces a long period of custody, but believes it is of paramount importance that a full inquiry is conducted into why an officer with such severe mental health could remain undetected for 18 months while in charge of guns, money and drugs."
During the trial, the High Court in Edinburgh was told Burnett took drugs that were earmarked for destruction and pocketed money linked to 98 separate cases.
When he was finally caught, only £1,900 of the £205,000 was recovered.
Burnett said his troubles started after he was he subject of a false allegation that saw him locked up for five days.
After stealing the money, he recalled driving to a bookmakers and "sat there until every penny was gone".
He claimed he turned to prostitutes as he needed someone to talk to amid claims he also offered them drugs.
'Reckless behaviour'
Prosecutors accused him of "months of hedonistic, reckless behaviour".
The court also heard how he took a submachine gun from the production room and considered going to the senior management area before deciding not to. He also got hold of a shotgun and rifle and thought about killing himself.
Burnett, who joined the police in 1995, told the court: "I wanted to do it that much, but what was going through my head was the effect on everyone else."
Burnett pled guilty to stealing £205,279 along with cocaine, cannabis, heroin and other powders he believed were drugs.
He went to trial on a charge of supplying cocaine to escort girls, but a jury returned a not proven verdict. He was also found not guilty of being concerned in the supply of diazepam and heroin.
Sarah Livingstone, defending, said: "He has now lost everything - his career, his reputation, his liberty and, in due course, his pension."
She added: "His gambling addiction was how he coped with stress. Having gone back to work, the stresses got worse. He took the escape route that was gambling."
Judge Murphy told Burnett the sentence would have been five years, but for the guilty pleas. He said the former constable was a "clearly intelligent and gifted individual" but had shown a "poor reaction" to his personal difficulties.