Petrol traces found outside Sharkey blaze home, expert.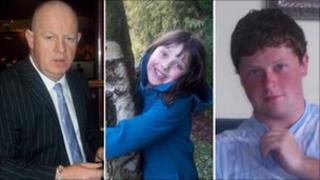 The blaze which claimed the lives of a father and his two children was deliberate, a court has been told.
Fire investigator Ian MacMillan said debris found inside and outside the family home had petrol traces.
He was giving evidence at the trial of Scott Snowden, 37, and 50-year-old Robert Jennings.
They deny murdering Thomas Sharkey Snr, 55, his son Thomas Jnr, 21, and his eight year-old daughter Bridget on 24 July 2011.
Mr Snowden and Mr Jennings also deny attempting to murder Mr Sharkey's wife Angela, 48, who survived the fire in which her family perished at their home in Scott Court, Helensburgh, Argyll.
Earlier, a pathologist revealed details of how the three family members died.
Schoolgirl Bridget had deadly carbon monoxide levels in her blood while her brother Thomas had inhaled large quantities of soot.
Their father died days later of bronchial pneumonia, Dr John Clark said.
He said the bodies of both children had been badly burned but added: "Much, if not all of this burning, may have occurred after death."
Dr Clark said: "In a situation like this, it happens very quickly. There is no oxygen left to breathe and so you die. This girl died after inhalation of soot and fire gases. She had burning to her face and shoulders. The cause of death was inhalation of smoke and fire gases."
Bridget was rescued from the fire, which broke out at 5am at her family home but died two hours later in the Royal Alexandra Hospital in Paisley.
Her brother was pronounced dead at the scene and also died from inhalation of soot and fire gases. Dr Clark said: "There was a lot of inhaled soot which had gone down into the lungs"
The pathologist also examined the body of their father who was rescued from the living room window ledge but died six days later.
The court was told Mr Sharkey Snr had burns to his face, chest, arms and part of his back. He suffered renal failure and developed MRSA.
Dr Clark said he had "breathed in very hot gases" and this led to bronchial pneumonia in both lungs. which was the cause of death.
Fire investigator Mr MacMillan later said that in his opinion the fire was deliberate and that petrol had been found on debris outside and inside the front door.
Asked if a large quantity of petrol would be required, Mr MacMillan said: "No."
He told how firefighters found Mrs Sharkey, who survived the fire, and her two children collapsed in their respective bedrooms, lying beside their beds.
The trial before Lord Matthews continues.