Capercaillie numbers: Luss Estates seeks ban on Loch Lomond wild camping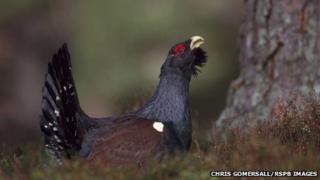 Restrictions on wild camping at Loch Lomond should be extended to protect rare capercaillie, the owner of four islands in the loch has said.
Conservationists said last week that efforts to halt a decline in the numbers of the birds in the Trossachs and Argyll have failed.
Islands on Loch Lomond were identified as the last places where the southern population of capercaillie survived.
Four of the islands are owned by Luss Estates.
It said a ban on camping outside of designated areas on East Lomondside should be widened.
Loch Lomond and Trossachs National Park launched consultation last year on the extending the restriction to include the loch's islands.
'Bengal tigers'
Luss Estates, which owns Inchconnachan, Inchtavannach, Inchmoan and Inchlonaig, said this should be done now as a matter of urgency to protect the last of the capercaillie.
Chief executive Simon Miller said the landowner was "dismayed" capercaillie numbers had fallen to critically low levels.
He said: "Whilst Luss Estates fully appreciates SNH's need for pragmatism, we are nevertheless disappointed that Loch Lomond's capercaillie are effectively being resigned to history before realistic efforts to minimise the human disturbance caused by wild camping is fully addressed.
"Given that there are reportedly fewer capercaillie in Scotland than there are Bengal tigers or snow leopards left in the world, surely every effort must be made to protect even the smallest of populations."
Last week, conservationists conceded defeat in their efforts to protect populations of capercaillie in the Trossachs and Argyll.
They said there were now only a few birds left and little or no breeding was taking place.
The Cairngorms are the traditional stronghold for Scotland's capercaillie population, but the birds can still be seen further south.
Scottish Natural Heritage said these southern populations had dwindled.
'Range of views'
The few birds that are left are centred on the islands in Loch Lomond.
Gordon Watson, director of operations for Loch Lomond and the Trossachs National Park said the islands were already "heavily protected".
He added: "We remain committed to producing an overall visitor management plan for the islands with the co-operation of the landowners.
"We consulted last year on a range of management options and this led to a widely divergent range of views coming forward, with some responses arguing that no visitor management was required.
"Following the successful implementation of the revised Loch Lomond navigation byelaws this year, we are now further considering management options for the islands and will undertake a public consultation this winter."