Glasgow burst main: Water fully restored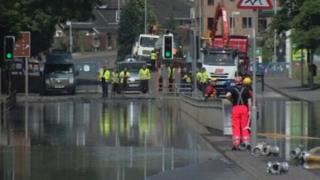 Water supplies have been restored to all 23,000 properties affected by a burst main on Scotland's hottest day of the year.
The 36 inch trunk main burst on Maryhill Road in Glasgow, near its junction with Coronation Way, at 05:00.
Parts of Bearsden and the Maryhill area of the city were left without running water for much of the day.
Scottish Water said it had fully restored the supply to all of the properties by 19:30.
The burst main also caused flooding to some properties and traffic disruption in the area.
A spokesman for Scottish Water said: "Our engineers re-zoned the network and brought in water supplies from other areas and by early afternoon had restored normal supplies to 18,000 properties and to the remaining 5,000 properties early this evening.
"The affected properties were mainly in the Switchback Road area of Bearsden and the Summerston area.
"As the system recharges, some properties in these areas will have had their water restored before others depending on their location on the network."
Implications for traffic
He said customers might experience some discolouration in their water after their supply is restored, and should run the cold tap in their kitchen until their water runs clear.
The affected part of Maryhill Road has been closed following the burst.
It is thought that the repair to the water main and the reinstatement of the road, which will begin immediately, might take some time to complete.
This is likely to mean there will be implications for traffic in the area near the burst over the coming days, Scottish Water said.
John Rae, Scottish Water's general manager for water operations, said: "Scottish Water apologises for the inconvenience to customers, particularly those who have been affected by flooding, and road-users that this burst caused.
"We worked hard to restore normal supplies as quickly as possible and we thank all customers for their patience and understanding."