Man saved from Hogganfield Loch by police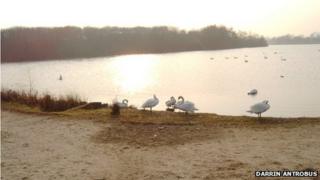 Police Scotland said their officers "undoubtedly" saved a man's life when they pulled him out of a loch overnight.
Four officers had been on anti-violence patrol at about 01:00 on Friday, targeting violence hotspots.
During a search they spotted him floating on his back on Hogganfield Loch in the north-east of Glasgow.
They waded into the water, pulled the man out and gave him first aid before an ambulance arrived.
The man, who has not been named, was taken to Glasgow Royal Infirmary where he was released after a check-up.
Constables Craig Petty, Alisdair Robertson, Heather White and Laura Campbell first spotted the man walking in the car park beside the loch.
He then disappeared into a poorly lit area of open ground.
During a search of the area, the officers saw him in the water.
A statement from Police Scotland said: "The prompt actions of Police Scotland's officers in going in the water, in darkness, and in chest deep, cold water, containing unknown hazards, have undoubtedly saved the life of this man."