Janitor rescued from fire at Gowanbank Primary school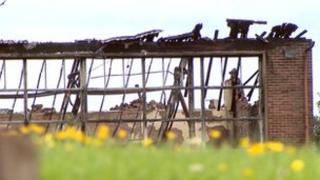 A janitor has been rescued from the grounds of a burning school in a major blaze firefighters believe was started deliberately.
Fire crews were alerted to the blaze at Gowanbank Primary in the Nitshill area of Glasgow at about 05:00.
They helped janitor Andy Gould to safety from his home in the school grounds. He was uninjured.
Although deliberate fireraising is suspected, the cause has still to be determined by investigators.
More than 30 officers attended the incident in the two-storey school. The blaze was quickly brought under control using main jets and a high reach appliance water monitor.
The dining and kitchen areas were severely damaged, but 70% of the building was saved.
The school building, which is more than 20 years old, is thought to contain asbestos and Glasgow Building Control officials have been called in.
Group commander Tony Waters of the Scottish Fire and Rescue Service said: "This incident is particularly disappointing as this week marks the start of the Scottish Fire Service's summer holiday season strategy aimed at tackling deliberate fireraising."
A joint inquiry into the cause is being carried out by police and fire investigators.