Clive Carter admits killing Khanokporn Satjawat at SECC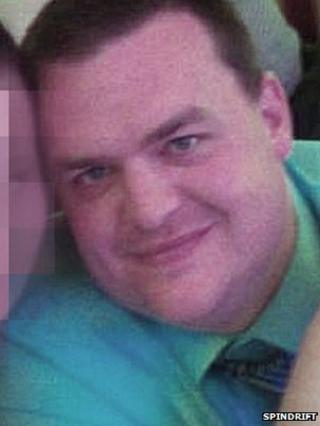 A man has admitted killing a 42-year-old Thai woman with a fire extinguisher at Glasgow's SECC complex.
Clive Carter, 35, is accused of murdering Khanokporn Satjawat in the female toilets at the Clyde Auditorium on 12 November last year.
He has pleaded guilty to the reduced charge of culpable homicide on the grounds of diminished responsibility.
His plea was rejected by the Crown at the High Court in Glasgow and another hearing was fixed for August.
Mr Carter, from Motherwell, North Lanarkshire, had been in the dock for a preliminary hearing on Thursday.
'Not acceptable'
His QC Ian Duguid entered the guilty plea to the reduced charge on his behalf.
But prosecutor Murdoch MacTaggart told the court: "That plea is not acceptable to the Crown."
Ms Satjawat, a pharmaceutical firm manager, died while attending a conference on HIV drug therapy at the auditorium, which is commonly known as the Armadillo, on the banks of the Clyde.
Mr Carter is believed to have been working as a security guard at the time.
Prosecutors allege that he repeatedly struck Mrs Satjawat on the head and body with a fire extinguisher.
The 35-year-old faces a further charge that he attempted to defeat the ends of justice to try and avoid arrest.
It is claimed he cleaned blood and hair from the alleged murder weapon in a glass washing room at the Clyde Auditorium.
Mr Carter is also said to have hidden a blazer he was wearing in a nearby cabin.
He is then alleged to have told a number of people - including police - that he had seen a male carrying a fire extinguisher and taken it from him.
It is claimed he knew those statements to be "false and untrue".
Mr Carter is also charged with committing a breach of the peace by leaving a woman in "fear and alarm" at the Holiday Inn Express in the city's Stockwell Street on 4 November 2012.
It is alleged that knowing she was alone, Mr Carter claimed to be attending to a fire in her room despite knowing there was no blaze.
He is said to have repeatedly knocked on the door and entered uninvited while holding a fire extinguisher.