Sharkey fire deaths: Son says 'insane' to blame him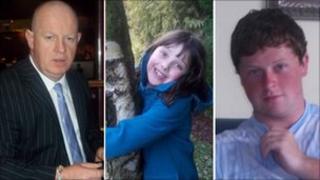 The son of man who died in a fire along with his other two children has said it is "insane" to suggest he had anything to do with setting the blaze.
Scott Snowden and Robert Jennings are on trial at the High Court in Glasgow.
They deny murdering Thomas Sharkey, 55, and his son Thomas junior and daughter Bridget in a fire in Helensburgh.
Robert Sharkey, 38, the victims' son and step-brother, is one of a number of men Mr Snowden and Mr Jennings have blamed for the murders.
Thomas Sharkey Jnr, 21, and Bridget, eight, died in the blaze at the town's Scott Court on 24 July 2011. Their father, Thomas Snr, died in hospital days later.
'Turbulent relationship'
Giving evidence at the trial, Robert Sharkey, 38, was asked by prosecutor Alex Prentice QC: "Did you have anything to do with the fire," and replied: "No."
Mr Prentice then said: "Did you have anything to do with setting the fire, did you set the fire or pay someone to set the fire," and Mr Sharkey said: "Insane even to say that. Definitely not."
Mr Sharkey was asked where he was at the time of the fire and said: "I was in bed sleeping."
He told the jury that he first knew of the fatal fire when a friend texted him and told him his step brother had died.
Later that morning he heard from relatives that Bridget had also died.
He was asked about his relationship with his father and replied: "We had a turbulent relationship. It was a father and son relationship. It was due to my lifestyle. I was involved in drink and drugs and stuff. I loved my father and he loved me."
Mr Prentice played CCTV footage taken in John Street, Helensburgh, on the morning of the fire.
He asked Mr Sharkey: "Do you recognise anything," and he replied: "I recognise that walk it's like a kind of swagger."
Mr Prentice then said: "Do you know anyone who walks like that," and Mr Sharkey said: "Robert Jennings."
Earlier that court had heard from another witness that a figure captured on CCTV on the morning of the fire had a similar walk to one of the murder accused.
Andrew Sharkey, a cousin of Mr Sharkey, told the trial the figure had a similar gait to Mr Jennings but that he could not be 100% sure.
Culpable homicide
Under cross-examination by Ian Duguid QC, representing Mr Jennings, he was asked why he had waited nine months after the fire before mentioning anything to police.
Mr Sharkey replied: "I can't see the person's face and the image wasn't brilliant."
Mr Duguid said: "For all you know it could be someone walking home in the early hours and someone other than Robert Jennings," and Mr Sharkey said: "It's possible."
Later the QC said: "In your police statement you never mentioned his walk," and Mr Sharkey said: "I said it was similar to his walk."
Mr Sharkey was asked if police had suggested that it might be him on the CCTV clip and denied this.
Mr Duguid then said: "You know what it takes to kill a man. You have been convicted of culpable homicide."
Mr Sharkey replied: "I was young at the time ... I know what it's like to kill someone and regret it for the rest of your life."
Earlier Donald Findlay QC, representing Mr Snowden, reminded the jury that Andrew Sharkey's brother Mark had stabbed Thomas Sharkey Snr in the back just months before his death and almost killed him.
The QC then suggested to Mr Sharkey that he and his brother had a feud with the late Thomas Sharkey Snr and had set fire to the house as a warning to make him drop the charges against Mark Sharkey.
Mr Sharkey replied: "No."
The trial before Lord Matthews continues.