Sharkey fire deaths: Court hears of 'drugs debt'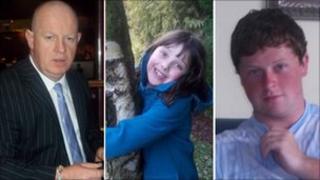 A court has heard that a man accused of murder met one of his alleged victims to discuss a drugs debt.
The High Court in Glasgow was told that Thomas Sharkey's niece Lynette Stevens, 32, owed Scott Snowden £1,200 for cocaine.
The evidence came from Thomas Sharkey's brother Ronald Stevens, 52.
He is a witness at the trial of Mr Snowden, 37, and Robert Jennings, 50, who deny murdering Thomas Sharkey and his two children in a fire.
Mr Sharkey, 55, his son 21-year-old Thomas junior and his eight year-old daughter Bridget died in at their home in Helensburgh on 24 July 2011.
Ronald Stevens told the court that he sought his brother's help after Mr Snowden made threats to the family.
He said that, after his brother spoke to Mr Snowden, a deal was struck that £500 would be paid as a down payment, with a further £100 being handed over each fortnight.
Phone calls
The court also heard from one of Mr Steven's daughters, 29-year-old Donna Stevens, who said she had received threatening phone calls from Mr Snowden.
Asked about the calls, Ms Stevens said: "He said he was going to rip my sister's face off because she wouldn't answer the phone to him.
"He was threatening to go through my dad's house. He was just really angry. He said he wanted his money. He wanted paid."
Andrew Walsh, 49, described as a friend of Mr Sharkey's for 25 years, also gave evidence.
He described overhearing a telephone call in which Mr Sharkey told someone called "Snowden" that the matter had nothing to do with him and that he should speak to "Ronald".
It was suggested by Donald Findlay QC, representing Mr Snowden, that Mr Sharkey had never mentioned the name Snowden and Mr Walsh replied: "I'm not a liar."
Mr Snowden and Mr Jennings deny all the charges against them.
The trial before Lord Matthews continues.