Man taken to hospital after police incident at Haghill flat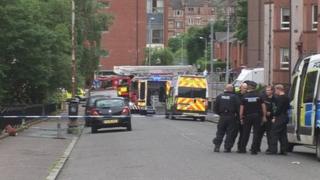 A man has been taken to hospital after an incident at a flat in the Haghill area of Glasgow.
Police said they were called to a property in Corsock Street at about 18:00 after a man climbed onto a window ledge.
Fire and ambulance crews also attended along with trained police negotiators.
After a fire broke out within the flat the man jumped from the window, police said. His injuries were not thought to be life-threatening.
Neighbours were moved out of the surrounding properties while the incident was ongoing and part of the street was cordoned off.
A police spokesman added: "He was taken to hospital by ambulance for treatment.
"Police are still at the scene and inquiries are ongoing."