Funds for £2.3m Pinkston Paddlesports Centre in Glasgow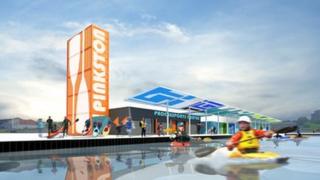 The final stage of funding has been approved for a £2.3m water sports centre in Scotland's largest city.
Glasgow City Council is committing £276,000 to the Pinkston Paddlesports Centre, at the Pinkston Basin of the Forth and Clyde Canal, at Port Dundas.
The facility, which is due to open in September, will offer a competition-standard white-water course, canoe polo pitches and a boathouse.
It is expected to attract 25,000 users each year.
The centre forms part of a wider regeneration of the canal area around Spiers Locks.
It is being supported by Glasgow City Council, Scottish Canals and ISIS in the Canal Partnership.
Councillor Archie Graham, executive member for the Commonwealth Games at Glasgow City Council, said: "There will be a very wide range of people using the centre, from elite competitors, leisure users and the emergency services to youth groups, charities and those facing challenges with integrating into society.
"The Pinkston Paddlesports Centre is a perfect example of a legacy project in Glasgow, bringing community and economic benefits to the area and contributing to the regeneration efforts going on across the north side of the city centre."