Sharkey fire deaths: Accused 'slashed man on face'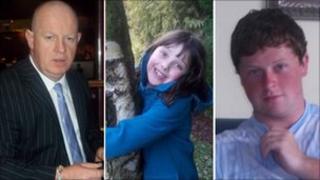 A man who was slashed on the face has told a jury that he was attacked by one of two men accused of murdering three people in a house fire in Helensburgh.
At the High Court in Glasgow, Richard McKinney identified Robert Jennings as the man who slashed his face eight times in Alexandria in January 2010.
The court also heard Mr McKinney had made a work complaint about his ex-colleague and co-accused Scott Snowden.
Both men deny murder by torching the Sharkey family home on 24 July 2011.
Thomas Sharkey Jnr, 21, and his sister, Bridget, eight, died in the blaze at their home in Scott Court. Their father, Thomas Snr, 55, died in hospital days later.
Attack evidence
Both accused also face a charge of attempting to murder Mr Sharkey's wife, Angela, 48, who survived the fire.
Mr McKinney, 58, told prosecutor Alex Prentice QC that he was attacked as he reversed his car into his driveway in Luss Road, Alexandria, at about 20:20 on 20 January 2010.
He said he saw a man standing on the pavement outside his home as he drove up.
The witness added: "I gestured to the man to carry on, but he gestured to me to say carry on.
"As I started reversing into the driveway, the driver's door was pulled open. The person's arm came up and I thought why is this man touching me. He started slashing at me.
"The first blow was across my left cheek. There were maybe eight blows to my forehead and cuts to the lenses of my glasses.
"I tried to get my head away from him and went into the passenger seat and caught two blows to my hand and my leg. To this day I didn't remember seeing a knife."
Mr McKinney told the court that nothing was said during the incident.
Asked if he had seen Mr Jennings before the attack, the witness replied: "When he walked towards me he was smiling. He seemed a pleasant person. I had no fear of him."
Marina complaints
He was asked if he could identify his attacker and pointed to Mr Jennings sitting in the dock.
Earlier Mr McKinney told the jury that he had worked at Rhu Marina in Helensburgh as a berth master from 2009 to 2010.
The witness, who is now an engineer, said he had been unemployed before he applied for the job.
The court heard that while working at the marina he had complained on a number of occasions about Mr Snowden's timekeeping, and on one occasion when Mr Snowden's dogs chewed the furniture in the office.
Under cross-examination by Ian Duguid QC, representing Mr Jennings, Mr McKinney admitted that he had not positively identified the accused at either a video ID or from photographs shown to him by police.
He was asked how he could now identify Mr Jennings as his attacker - three years and five months after the incident. He replied: "They were not good images."
Mr Duguid then asked: "Why is your memory better now than at the time of the incident."
Mr McKinney replied: "The person physically sitting there is better than in a photo."
Later Mr Duguid made reference to a police statement Mr McKinney had given after contacting them about an item he saw on the BBC news website on 4 October 2011.
In the statement, Mr McKinney said that while reading the story about a drugs case, "the lower left of the group jumped out at me - Andrew Burns from the Helensburgh area".
Special defences
It was put to Mr McKinney that he had thought Mr Burns was the man who had slashed him.
Mr McKinney said after reading the story, he had seen something on TV which showed the man with his hood off, and realised he was not his attacker.
Mr Snowden, 37, and Mr Jennings, 50, have lodged special defences of incrimination and alibi, with Mr Snowden claiming he was in Mexico when the fire at the Sharkey home was allegedly started, while Mr Jennings claims he was home alone in Helensburgh.
They also deny assaulting Mr McKinney to his severe injury and permanent disfigurement.
The trial before judge Lord Matthews continues.