Edinburgh University beats Glasgow in boat race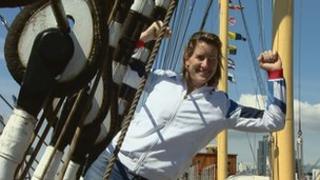 Edinburgh University student rowers have beaten rivals Glasgow University in their 136th annual boat race.
Olympic rowing champion Katherine Grainger, who has previously competed in the event, started the 1st VIII male and female races - which were both won by Edinburgh.
The boats followed a 1.7 mile (2.7km) route along the Clyde from the Kingston Bridge to the Tall Ship.
Edinburgh's men had last won the race in 1999.
There were six races on the water in total, with Edinburgh winning the male reserve race and Glasgow winning the female equivalent.
Former Glasgow University students proved to be the best of the previous generations as both male and female teams won the alumni races.
Hundreds of people gathered in the sunshine beside the Tall Ship and the Riverside Museum to watch the climax of the races.
Organiser Lee Boucher from Scottish Rowing said: "There was a really big turnout, it's a fantastic venue alongside the Riverside Museum and obviously having Katherine here today meant lots of people came along.
"This is the first year it has been held in the middle of the city and this sort of venue lends itself to an event of this magnitude, it's the second oldest university boat race in this country after the Oxford-Cambridge race so from that perspective it's a big deal for the students.
"There were lots of people in a jubilant mood and others in tears, it means a lot to these guys."
The main teams consist of eight rowers and a cox, who sits on the stern facing the bow to steer and co-ordinate the rowers.
Grainger, from Aberdeenshire, said: "I've competed in it as an undergraduate and also as a graduate so it is lovely to be back supporting it from the banks this time.
"It's a fantastic event and as a graduate of both the University of Edinburgh and Glasgow it was good see great battles on the water."