Glasgow cyclists 'saving city' £4m, claims research body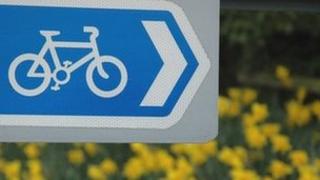 People cycling to work in Glasgow helped generate £4m health-related savings last year, it has been claimed.
Glasgow Centre for Population Health (GCPH) set out to calculate the economic benefit accruing from cycle trips in and out of the city centre.
The research and policy group came up with the £4m figure using a World Health Organisation online tool.
The sum accounts for the reduced number of deaths and does not include the economic benefits of reduced illness.
GCPH said that while there had been an overall Scottish trend of greater car use and less walking and cycling in recent years, the levels of cycling in and out of Glasgow city centre had increased by more than 25% since 2009.
The centre said this was attributed to the impact of the economic recession, improvements to cycling infrastructure in the city and a growing public lobby in favour of cycling.
'Robust evidence'
Its research concluded that cycling represented "extremely good value for money" for both individual and public health.
GCPH researcher Fiona Crawford said: "These findings provide robust evidence that active travel contributes to a healthy population and a healthy economy.
"Regular cycling during day-to-day journeys is a great way to get some exercise. If 10% of all journeys were made by bike in Glasgow today as they are in Gothenburg, a Swedish city of a similar urban design and size, our population would be healthier and happier, as we know that regular physical activity is good for mental, as well as physical, health.
"We would also have cleaner air in our city as our streets would be less dominated by motor traffic".
She added: "Maybe it's time to prioritise investment in making our Scottish cities people-friendly places as it is becoming increasingly clear that this will boost liveability and economic vibrancy as well as improving population health".
GCPH is a partnership between NHS Greater Glasgow and Clyde, Glasgow City Council and Glasgow University, supported by the Scottish government.