Sharkey fire deaths: 'Fire suspect' named in 999 call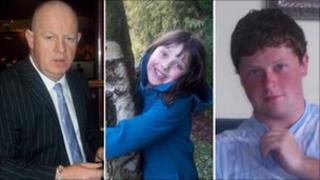 An anonymous 999 caller named someone they claimed was connected to a fire in which three family members died.
Det Con Jonathan Campbell told the High Court in Glasgow he had been asked to listen to the call and believed the caller was Steven McKeown.
The officer was giving evidence in trial of Scott Snowden, 37 and Robert Jennings, 50.
The pair deny murdering Thomas Sharkey and his two children and have blamed other people, including Mr McKeown.
Thomas Jnr, 21, and his sister, Bridget, eight, died in the blaze at their home in Scott Court in Helensburgh on 24 July 2011. Their father, Thomas Snr, 55, died in hospital days later.
Both accused also face a charge of attempting to murder Mr Sharkey's wife, Angela, 48, who survived the fire.
They have lodged special defences of incrimination and alibi, with Mr Snowden claiming he was in Mexico when the fire at the Sharkey home was allegedly started, while Mr Jennings claims he was home alone in Helensburgh.
The jury has heard that Mr McKeown is one of a number of people incriminated by Mr Snowden and Mr Jennings for the murder of the Sharkey family.
Telephone box
Det Con Campbell told the court that he was drafted into the investigation on 10 August 2011.
During questioning from QC Donald Findlay, representing Mr Snowden, Det Con Campbell confirmed he knew Mr McKeown and he knew what his voice sounded like.
He also confirmed he had been asked to listen to a 999 call to Strathclyde Police on 11 August.
Mr Findlay asked Det Con Campbell who he thought the voice on the call was and he replied: "I believed it to be Steven McKeown."
He added that he was not sure when the call was made.
Det Con Campbell agreed that the 999 call had been made from a telephone box in Helensburgh and confirmed that it was to provide information in relation to the fire at Scott Court.
Commenting on the use of an emergency number, the QC said: "Was this a call to give information or was it a call which had some emergency part to it?"
Det Con Campbell said he believed it was a call to give information.
The QC said: "Did he name an individual or individuals as having some connection with the fire?"
The police officer said: "It was an individual."
'Policeman's words'
Earlier the court heard from Ewan Fraser, a watch commander at Helensburgh fire station.
He told told prosecutor Alex Prentice QC that in his opinion a fire at Kingspoint, Shandon, on 5 July, 2008 and a house fire at 4 William Street, Helensburgh on 6 January, 2011 were started deliberately.
Mr Snowden denies setting the fire at Kingspoint and he and Mr Jennings deny pouring petrol through the letterbox of the the house in William Street, Helensburgh.
The court later heard from witness Francis Fagan, 39, of Glasgow, who was charged in March 2009 with wilful fire-raising in connection with the fire at Kingspoint.
Mr Fagan had been questioned by police following the fatal fire in which three members of the Sharkey family died.
In his police statement, Mr Fagan was also questioned about the Kingspoint fire and he is said to have replied: "This was a job that I done for P&B Security."
However, in court he denied saying this, agreeing with defence advocate Mr Findlay that these were "a policeman's words", which he had agreed with "to get them to shut up".
The trial before judge Lord Matthews continues.