Cleaning concern at Gartnavel and Beatson Hospital wards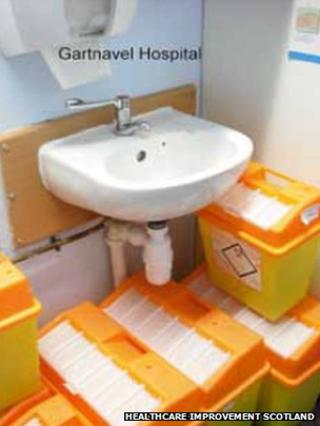 Inspectors have expressed concern at the standard of cleaning at Scotland's largest cancer centre.
On a visit to the Beatson and Gartnavel General Hospital, they found dust and debris, and were told by staff there were not always enough cleaners.
Healthcare Improvement Scotland also found many patients had not been given information about preventing infection.
NHS Greater Glasgow and Clyde (GGC) said it had drawn up an action plan to address the inspectors' concerns.
HIS carried out the unannounced inspection at Gartnavel, which has 558 beds, on 26 March.
The site also houses the Beatson West of Scotland Cancer Centre with 170 beds.
In its report, the inspection team stated that it "observed good compliance with standard infection control precautions" in all the wards visited.
It continued: "However, on one ward we found a large number of full sharps bins awaiting uplift.
"These were restricting access to the handwash sink in the sluice.
"The senior charge nurse confirmed that there had been no collection the previous day (Monday) and that the portering department had been contacted to arrange collection. The senior charge nurse told us that this problem was not uncommon."
'Generally clean'
The report also noted that on the day of inspection, the hospital was "generally clean".
It continued: "However, in four of the nine wards and departments inspected, further attention to detail was required.
"This included high and low level dust and debris, particularly at floor to wall junctions.
"In three of these wards and departments, staff expressed concern at the inconsistent provision of adequate domestic staff to achieve the required level of cleaning."
The inspection resulted in three requirements - covering cleaning, information availability and record keeping - being made, which HIS expected NHS GGC to address "as a matter of priority".
'Very pleased'
Rory Farrelly, NHS GGC's acute director of nursing said: "We were very pleased to note the number of positive findings at Gartnavel General Hospital by the inspectors since their last visit in 2011.
"In particular, we were pleased that the inspectors noted that communication between different staff groups and teams was generally good and staff were well informed about infection prevention and control issues.
"There was also good compliance with the dress code and uniform policy and overall the areas inspected were found to be clean.
"However, we recognise that there are still areas we need to address and an improvement plan has been developed to ensure that the three requirements and one recommendation are implemented."