New survey on Iona hints at undiscovered burial sites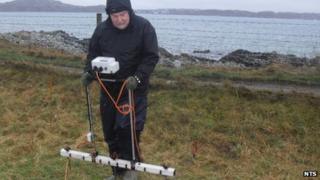 Evidence of previously undiscovered historic burial sites may have been found on the Scottish island of Iona.
A geophysical survey - used for archaeological imaging or mapping - discovered signs of burial to the south of the village and at Martyr's Bay.
Both of these will be excavated at a later date.
The National Trust for Scotland (NTS) survey was the first to focus away from the island's Columban monastic enclosure and the Benedictine Abbey.
The study was carried out on NTS land by Dr Sue Ovenden and Alastair Wilson, of Rose Geophysical Consultants.
The pair examined two areas in the fields to the south of the village - one close to the current village hall and south of the Nunnery, The other was at Martyr's Bay.
'Numerous sites'
The area close to the village hall appears to show features of recent or natural origin which will be excavated later this year.
NTS said the more interesting result came from Martyr's Bay where there is a mound beside the road where skeletal remains were excavated in the 1960s.
The trust's head of archaeology, Derek Alexander, said: "The geophysical survey shows that on the landward side, this mound may have been revetted (walled) by stones and surrounded by a shallow ditch. This could be a sign of burials.
"It has always been suggested that there are numerous burial sites on Iona and there have been various finds over the years, the most famous of which is in the graveyard at Relig Odhrain to the south of the Abbey.
"The burials that have been discovered so far are absolutely fascinating."
The findings of the survey were revealed as the island prepares for a special service of thanksgiving at Iona Abbey on Sunday to mark the 1450th anniversary of Columba's arrival on Iona.