Death rate review at Golden Jubilee Hospital heart unit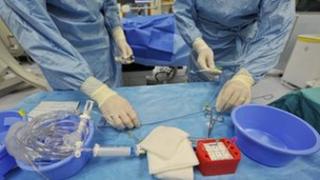 A leading Scottish heart hospital has conducted an internal review after an audit reported higher than expected mortality rates.
The Golden Jubilee National Hospital had a higher "risk-adjusted" death rate than Aberdeen Royal Infirmary and Edinburgh Royal Infirmary.
The audits were carried out by the Society for Cardiothoracic Surgery in Great Britain & Ireland (SCTS).
Golden Jubilee said the figures should not have included emergency cases.
The Clydebank hospital has undertaken what it called an "extensive" validation exercise which indicated lower mortality rates than those in the audit.
It said emergency procedures should have been excluded and once corrected this took the figures within the spread of other UK units.
However, in a statement on the SCTS website, the Golden Jubilee said: "Notwithstanding this and despite the difficulties in making direct comparisons between cardiac surgery units' mortality rates, our outcomes data were not as good as the high standards we were seeking to achieve.
"This has led to an internal review that resulted in us making improvements over a number of key interrelated areas.
"This has led to reductions in mortality rates over time."
The Golden Jubilee said it believed that the most up-to-date figures showed its unit was performing well as a specialised heart centre.
"As a national resource for NHS Scotland, we pride ourselves on delivering an excellent service for the people of Scotland," a statement from the hospital added.
"We intend our performance to keep improving, and are striving to be consistently amongst the best performing units in the UK."
'First-class care'
The audit figures covered adult cardiac surgery, congenital cardiac surgery and thoracic surgery at the three hospitals.
The risk adjusted mortality rate for the Golden Jubilee between 1 April 2008 and 31 March 2011 was 4.14%, compared with 3.37% for Edinburgh Royal Infirmary and 3.06% for Aberdeen Royal Infirmary.
Mike Higgins, medical director for the Golden Jubilee, said: "Providing safe, effective and individual care is our top priority. We work extremely hard to ensure that we provide first-class care and treatment to our patients.
"Our most up-to-date figures show that our unit is performing well as a specialised regional and national heart centre."
The hospital said that, after its improvement drive, figures for April to December 2012 showed a mortality rate of just over 2%.
The Golden Jubilee heart unit carried out 4,000 procedures over the review period, making it one of the busiest in the country.
Its figure came just outside the highest expected risk-adjusted mortality for the number of cases.