Sharkey fire deaths: Accused 'wanted to be main man'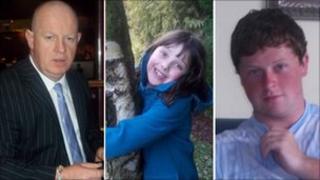 A drug dealer told police that a man accused of murdering three people in a house fire wanted to be "the main man" in Helensburgh, a court has heard.
The High Court in Glasgow heard a police statement from Lee McCarthy, 31.
He said that in his opinion Scott Snowden "got Tommy Sharkey's house burned down" as he was "a threat".
Mr Snowden, 37, and Robert Jennings, 50, deny murdering Thomas Sharkey, 21, Bridget, eight, and Thomas Snr, 55, by torching their home in Helensburgh.
Thomas and his sister Bridget died in the blaze on 24 July 2011. Their father died in hospital days later.
'Main man'
The children's mother Angela Sharkey, 48, survived the fire. Both accused also face a charge of attempting to murder her.
Witness Mr McCarthy, a former drug dealer who said he bought cocaine from Mr Snowden, was giving evidence for a third day.
The jury heard that in a police statement given on 4 November 2011, Mr McCarthy stated: "In my opinion the reason Scott Snowden got Tommy Sharkey's house burned down was so Scott Snowden could become the main man in the town.
"It wasn't about debts or anything. I know that Tommy Sharkey was a threat to Scott Snowden and Tommy Sharkey could have taken him out."
Defence QC Donald Findlay, representing Mr Snowden, said: "In your opinion Tommy Sharkey was a man who could and would kill."
Mr McCarthy replied: "Perhaps if there was a threat to his family."
The QC then said: "Was Tommy Sharkey a gangster?" and Mr McCarthy said: "No."
Under cross-examination, Mr McCarthy denied setting fire to the Sharkey's home.
He said: "I was not involved at all. I know nothing about it. That's the truth."
The QC told Mr McCarthy that he had offered not one piece of evidence against Mr Snowden and he agreed that it was his word against the accused's.
'Manipulative' witness
Mr McCarthy was also asked if at one point he told police that Mr Snowden had had no involvement in the fire and he replied: "Yes."
Earlier, Mr McCarthy told the court that he had been "drip-feeding" information about several fires in Helensburgh to police because he feared for his family.
Under cross-examination from Mr Findlay, he was accused of repeatedly lying to police during a series of interviews in the months that followed the fatal fire.
Mr Findlay said he had taken a "wilful, manipulative, lying and twisted approach" to his dealings with the police.
These included a fire at the home of a family in January 2011, when petrol was poured through the letterbox, and at two pubs.
But Mr McCarthy insisted: "I told the truth in the end."
Mr McCarthy, an ex-drug dealer and former soldier, also said that when he met Mr Snowden two days after the fatal fire at the Sharkey's home, he established that Mr Snowden was allegedly responsible.
'Something unthinkable'
This was despite, according to Mr Findlay, his client being on the other side of the Atlantic.
In cross-examination of Mr McCarthy, Mr Findlay said: "That was something unthinkable. You discovered you had been involved commercially with a man who killed two children. You would head to the police at the first opportunity."
Mr McCarthy replied: "I should have."
Mr Findlay told the court Mr McCarthy only spoke to police when they approached him some time later.
Mr Snowden and Mr Jennings face 22 charges between them, all of which they deny.
Both men have lodged special defences of incrimination and alibi, with Mr Snowden claiming he was in Mexico when the fire at the Sharkey home was allegedly started, while Mr Jennings claims he was home alone in Helensburgh.
The trial before judge Lord Matthews, which is expected to last between eight and 10 weeks, continues.