Norman Carlton jailed for life for Stewart Gillespie murder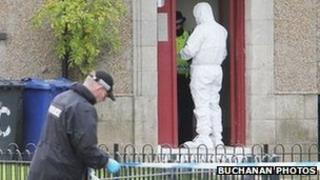 A killer with a string of convictions dating back to when he was 13 years old has been jailed for life for murder and attempted murder.
Norman Carlton, 28, fatally stabbed 53-year-old Stewart Gillespie - who was a convicted murderer and gangland figure - at a flat in Paisley in October 2012.
He was also found guilty of stabbing 32-year-old Robert Lawther.
Carlton, who was jailed for culpable homicide in 2001, was told he must serve a minimum of 22 years in jail.
Stewart Gillespie was jailed in 1996 for the gangland shooting of rival drug dealer Mark Rennie. He was released in 2010.
Special defences
Carlton's trial at the High Court in Glasgow heard how he had lost control after being ignored by his ex-girlfriend Natalie Gillespie, 31, the daughter of his victim.
He was said to have grabbed Mr Gillespie by the neck and stabbed him to death.
Mr Lawther told the court he had tried to pull Carlton away, but was stabbed on the groin.
Carlton denied the charges and lodged special defences of self defence, claiming he was attacked with the knife and fought back with it because he was "scared".
However, the jury found him guilty of murder and attempted murder.
Jailing him for life at the High Court in Edinburgh, Lord Stewart told Carlton: "The jury clearly rejected your account and must have been left in no doubt that your attack on the victims was an unprovoked act of aggression on your part.
"The evidence would support the conclusion that you attacked your victims in a fit of anger."
The judge noted that Carlton had a "significant" criminal record before his latest conviction.
In 1997, aged 13, he was convicted of assault to severe injury and permanent disfigurement and sentenced to 18 months' detention.
Stabbing victim
In 2001, aged 17, he was jailed for eight years after he admitted killing Patrick Brady, 34, at a flat in Paisley.
He was originally charged with murdering the father-of-three, who bled to death after being stabbed, but the Crown accepted a guilty plea to the lesser charge of culpable homicide.
Carlton was released on licence in July 2006 but was recalled to serve out the balance of his sentence a month later after being involved with an armed robbery.
Lord Stewart also noted that between 2004 and 2006, while in prison, Carlton was convicted of two assaults and one breach of the peace.
He was finally released in March 2012, but gained another breach of the peace conviction the following month after terrorising his mother in her home.