Rail worker hurt near Glasgow Queen Street by runaway vehicle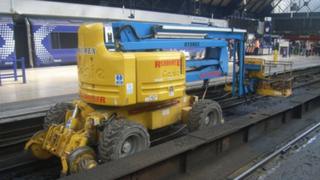 A worker was seriously injured when a runaway maintenance vehicle crashed into scaffolding near Glasgow Queen Street Station, it has emerged.
The Rail Accident Investigation Branch (RAIB) said it was looking into the "serious incident", which happened on the station's high level, on 21 April.
The vehicle, which is fitted with wheels for road and rail, ran away as it was being transferred to the tracks.
It ran for 1.6km before coming to a stop in the station.
The RAIB said no-one was onboard the mobile elevating working platform (MEWP) when it ran away at about 00:30 at the Keppochhill road-rail access point.
'Inadequate brakes'
The watchdog said: "However, while passing through the tunnel, the MEWP struck some scaffolding which was being erected as part of the planned engineering work and a person working on this scaffolding was seriously injured.
"Other members of staff working on the track were able to move clear of the runaway vehicle because they either heard its approach or were warned by mobile telephone."
The RAIB said a preliminary examination had "shown that the runaway occurred because the brakes acting on the rail wheels were inadequate to stop the vehicle on the gradient and the road to rail transfer was not carried out correctly".
"The examination also showed that the MEWP ran through the tunnel without lights," it added.
The watchdog said that tests on the rail wheel brakes had suggested they may not always perform to the intended standard.
It added: "Consequently additional restrictions have been placed on the use of this type of MEWP."
The ongoing investigation will now seek to identify the sequence of events; the factors influencing the actions of those involved; the capability of the rail wheel brakes; reasons for the loss of lighting; and issues surrounding the design, approval, testing and maintenance of the vehicle.