Sharkey fire deaths: Accused said blaze 'went wrong'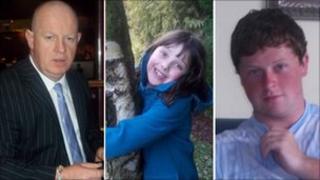 A man accused of murdering three people in a house fire allegedly told a friend "it went wrong", a court has heard
Lee McCarthy, 31, also claimed that Scott Snowden, 37, wanted to get 55-year-old Thomas Sharkey shot so his cousin Mark Sharkey would be blamed.
He was giving evidence for a second day at the High Court in Glasgow trial of Mr Snowden and Robert Jennings, 50.
Both men deny murdering Thomas Sharkey, 21, Bridget, eight, and Thomas Snr, by torching their home in Helensburgh.
Thomas and his sister Bridget died in the fire on 24 July 2011. Their father died in hospital days later.
Drug deal
The children's mother Angela Sharkey, 48, survived the blaze. Both accused also face a charge of attempting to murder her.
Witness Mr McCarthy, a former drug dealer who said he bought cocaine from Mr Snowden, claimed the accused seemed nervous during a conversation they had about the Sharkey house fire two days after the fatal blaze.
He said that he told Mr Snowden: "Yous are mental for doing that."
The witness said: "His reply was 'it went wrong'."
Earlier, Mr McCarthy told the court of a pub conversation in which he claimed Mr Snowden told him he planned to get Mr Sharkey shot.
He told the jury: "He says he was going to get Mr Sharkey shot so his cousin Mark Sharkey gets the blame of it."
Mr McCarthy agreed when judge Lord Matthews asked if the motive appeared to be to "cause some rift in the family".
The court heard that after the pub conversation Mr Sharkey organised a charity event at the town's Victoria Halls.
He said he told Mr Snowden a week after the event: "I thought he was getting shot."
'Splendid motivation'
Mr McCarthy said Mr Snowden replied: "I've got something else in mind for him."
The witness said he believed that after the fire he was a police suspect.
Mr Snowden's defence counsel Donald Findlay QC said: "There's a splendid motivation for shifting the blame onto somebody else."
The witness said that it was a motivation "to tell the truth".
Mr Snowden and Mr Jennings face 22 charges between them, all of which they deny.
Both men have lodged special defences of incrimination and alibi, with Mr Snowden claiming he was in Mexico when the fire at the Sharkey home was allegedly started, while Mr Jennings claims he was home alone in Helensburgh.
The trial before judge Lord Matthews, which is expected to last between eight and 10 weeks, continues.