Sharkey fire deaths: Murder accused 'admitted' other fires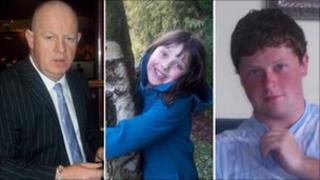 A man accused of murdering three people in a house fire admitted responsibility for other blazes, a court has heard.
Convicted drug dealer Lee McCarthy told the High Court in Glasgow that Scott Snowden supplied him with cocaine.
He also said the accused told him he "done" a building site fire and had a pub in Helensburgh burned down.
Mr Snowden and Robert Jennings deny murdering Thomas Sharkey, 21, Bridget, eight, and their father Thomas Snr, 55, by torching their home in Helensburgh.
Thomas and his sister Bridget died in the fire on 24 July 2011. Their father died in hospital days later.
Pub fire
The children's mother Angela Sharkey, 48, survived the blaze. Both accused also face a charge of attempting to murder her.
Unemployed Mr McCarthy, who was released from a jail term last week for charges relating to supplying cocaine, told the court he obtained cocaine from Mr Snowden on several occasions, beginning in 2009.
The court has heard previously that Mr Sharkey planned to renovate and run the Mariners pub in Helensburgh, but it was burnt down weeks before it was due to open.
Mr McCarthy recalled being at Mr Jennings's home days before the Mariners was burned on 19 April 2010.
During the visit, Mr Snowden arrived at the house. Asked how Mr Snowden was, the witness said: "He was a bit fuming, really. He said that he was barred from Mariners."
The name of another man, Mr May, came up in the conversation before Mr Snowden addressed Mr Jennings, the witness said.
"He said to Mr Jennings, 'You know what to do'," the witness told the court.
Asked to expand on that, Mr McCarthy replied: "(He) just basically said he wanted it burnt down."
Mr McCarthy, who said he was not asked to burn the property down and had no interest in doing so, claimed he then spoke to Mr Jennings the day after the fire at the pub.
The witness said Mr Jennings told him he had "walked along the shoreline to do it...to set the pub on fire".
Building 'destroyed'
Mr McCarthy went on: "I told him I was getting the blame of it and Tommy Sharkey says when he gets me I'm a dead man."
Earlier the court heard claims that Mr Snowden told Mr McCarthy he was behind a fire which destroyed a different pub.
Advocate depute Alex Prentice QC, prosecuting, asked the witness about a time when something happened to the Garth Inn in Helensburgh.
"It was burnt down," said Mr McCarthy, adding that the building was "destroyed". He said he thought the incident might have been in 2008 or 2009.
Mr McCarthy said he spoke to Mr Snowden about the fire after it happened.
"He just admitted it was him who paid to get it done," he told the court.
He later told police in a statement: "(Mr Snowden) has told me that he was responsible for setting fire to the Garth pub. He told me that he got the pub burnt down because he got flung out of the pub."
The court also heard about a separate fire at a housing development in the Argyll town.
Recalling a separate conversation, Mr McCarthy said Mr Snowden "said he done the fire at Queenspoint".
Both accused have lodged special defences of incrimination and alibi, with Mr Snowden claiming he was in Mexico when the fire was allegedly started and Mr Jennings claiming he was home alone in Helensburgh.
The trial before Lord Matthews continues.